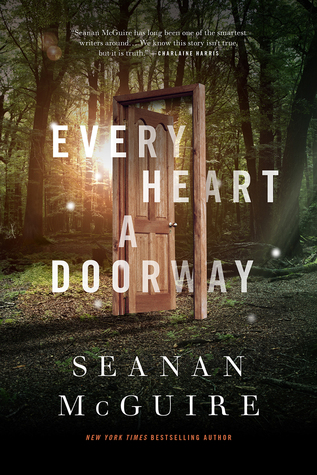 Every Heart a Doorway by Seanan McGuire
Tor.com
Publication Date: April 5, 2016
Date Read: April 6, 2016
Source: Purchased
★
★
★
★
☆
Eleanor West's Home for Wayward Children
No Solicitations
No Visitors
No Quests

Children have always disappeared under the right conditions; slipping through the shadows under a bed or at the back of a wardrobe, tumbling down rabbit holes and into old wells, and emerging somewhere... else.

But magical lands have little need for used-up miracle children.

Nancy tumbled once, but now she's back. The things she's experienced... they change a person. The children under Miss West's care understand all too well. And each of them is seeking a way back to their own fantasy world.

But Nancy's arrival marks a change at the Home. There's a darkness just around each corner, and when tragedy strikes, it's up to Nancy and her new-found schoolmates to get to the heart of the matter.

No matter the cost.




As soon as I saw this book, I knew that I just had to read it. I really don't know why I was so eager to read this book. I have actually never read anything by Seanan McGuire so there isn't a lot of logic in my need to read this book. I think that the cover pulled me in but the description sealed the deal. I actually pre-ordered this book which I only do once or twice a year. I was really afraid when I finally had the book that my expectations were so high that I was in the perfect position to be let down. I am happy to report that I ended up liking this book a lot.
This is a short book. Amazon lists the hardcover length at only 173 pages. Don't let the size of the book fool you because this is a big story. I was immediately pulled in by the characters. I love stories with interesting characters and this book was filled with them. There isn't a single average character in the story and I think that every one of them added something to the story. The premise of the book was amazing. It was just such an originally presented concept that I couldn't help but be captivated by it.
The book takes place at a school for children who have spent time in other realms. They aren't traumatized by their experiences as one would expect. They are only traumatized by the fact that they can't get back. Every student at the school wants to go back to the magical worlds that they have spent time in. Every one of these worlds are unique and different and have a huge impact on who the student the become. When strange things start happening at the school, they must also start to deal with fearing for their safety.
I really liked the mystery aspect of the story. I really had no idea what was going on but loved watching the group of kids work to make things right. I thought everything was just creepy enough to make this a very compelling read. This was a book that I didn't want to put down at all because the pacing was terrific. I thought the the overall writing was beautifully done.
I would recommend this book to fans of books that are just a little bit different and out of the ordinary. This is a book that I am sure that I will pick up again in the future. I am incredibly excited to learn that this book is the beginning of a new series. I will definitely be continuing with the series. This is the first book by Seanan McGuire but I will be checking out some of her other works soon since I really enjoyed her writing style.
About the Author




Beckett Gladney

Seanan McGuire is a California-based author with a strong penchant for travel and can regularly be found just about anyplace capable of supporting human life (as well as a few places that probably aren't). Early exposure to a vast number of books left her with a lifelong affection for the written word, and led, perhaps inevitably, to her writing books of her own, starting somewhere around the age of eleven. The October Daye novels are her first urban fantasy series, and the InCryptid novels are her second series, both published by DAW and bother of which have put her in the New York Times bestseller list. Seanan was the winner of the 2010 John W. Campbell Award for Best New Writer; Rosemary and Rue, the first novel in the October Daye series, was named one of the Top 20 Paranormal Fantasy Novels of the Past Decade; and her novel Feed, written under the name Mira Grant, was named as one of Publishers Weekly's Best Books of 2010. She also won a Hugo for her podcast, and is the first person to be nominated for five Hugo Awards in a single year. You can visit her at www.seananmcguire.com.