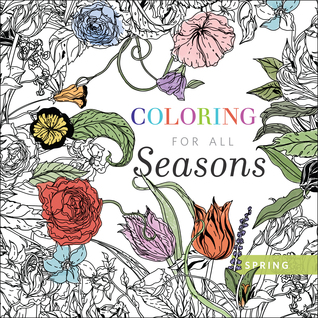 Coloring for All Seasons: Spring
River Grove Books
Publication Date: March 1, 2016
Source: Publisher
★
★
★
★
☆
"With the coming of spring, I am calm again."
– Gustav Mahler

Spring is that captivating time of year when the days get longer, the weather gets warmer, and plants come alive again. All across the globe, people shed their winter coats and step outside to celebrate this season with festivities and a collective appreciation of nature.

Coloring is a meditative pastime that has been proven to help practitioners focus and relax. By concentrating on specific patterns and hues, coloring can unlock creative potential and help alleviate stress. Each step of the way, from the initial choice of which shades to use to the soothing act of filling in each design, Coloring for All Seasons: Spring is an invitation to unwind.

We have carefully selected forty-six plates of spring flowers, butterflies, and animals to help immerse you fully in the season. Seasoned meditation practitioners and beginners alike will rejoice in Coloring for All Seasons: Spring. So grab your crayons, pencils, or markers and prepare to find a sense of inner calm. Within these pages of detailed patterns and inspiring beauty, we invite you to add some color to your world!




I was very impressed with this coloring book. I really found this adult coloring book to be very high quality. The focus of the book is spring and there are lots of wonderful drawings that represent the season beautifully. The artwork represents a wide range of styles and I love some of the related quotes worked into a few of the pages. I think that this coloring book will appeal to a very wide audience.
I really like how the artwork is very different from page to page. Some of the pages will require much more detailed coloring than some of the others. I can choose the level of difficulty based on my mood. I also like the variation in styles. Some pages are more whimsical while others seem a bit more lifelike. The patterns are really quite beautiful. I was very happy to see that the pages of the book are printed on only one side. There is less of a chance of color bleeding through the page but I would still probably place something under the page if I were using markers. Since the designs are on one side of the page, the art could be removed from the book if you choose.
I would highly recommend this book to anyone wanting to try an adult coloring book. There is nice variety of styles and difficulty to sample. This book was presented to me in a completely charming fashion with colored pencils and flowers surrounding the book. This coloring book would make a wonderful gift. I plan to look for the other seasons in the series soon.
I received a review copy of this book from Greenleaf Book Group for the purpose of providing an honest review.