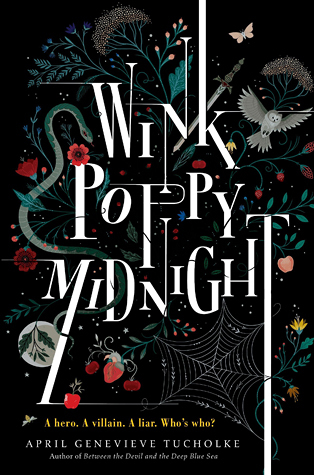 Wink Poppy Midnight by April Genevieve Tucholke
Random House Publishing Group -Dial Books
Publication Date: March 22, 2016
Date Read: March 5, 2016
Source: First to Read
★
★
☆
☆
☆
Every story needs a hero.
Every story needs a villain.
Every story needs a secret.

Wink is the odd, mysterious neighbor girl, wild red hair and freckles. Poppy is the blond bully and the beautiful, manipulative high school queen bee. Midnight is the sweet, uncertain boy caught between them. Wink. Poppy. Midnight. Two girls. One boy. Three voices that burst onto the page in short, sharp, bewitching chapters, and spiral swiftly and inexorably toward something terrible or tricky or tremendous.

What really happened?
Someone knows.
Someone is lying.




I hate to say that I am a little bit disappointed with this book. That doesn't mean that this was a bad book. Not at all. It just wasn't what I had hoped it would be. I had really high hopes for this book and bumped it to the front of my TBR pile so it is really quite possible that some of my disappointment is simply a result of unrealistic expectations.
This story is told from three point of views. Wink is one of the Bell children. She is a sweet girl with curly red hair who lives across the street from Midnight. Midnight is a genuinely nice boy who has just moved into a crooked little house across the street from Wink with his father. Poppy is a bully who likes to push people around and manipulate Midnight every chance she gets.
I did like the way the story was laid with with quick chapters told from the perspectives of the three main characters. The story really felt like a fairy tale in a lot of ways. The voices of the characters were very distinctive as well as interesting. I wouldn't really say that I grew to like any of them though. There was just no connection for me. Of course, I am an old lady that barely remembers what it was like to be a teenager anymore.
I knew going into the book that there would be a secret and someone in the story might be lying from reading the description. It is even on the cover of the book. I guess I was hoping for some kind of epic event to happen but in the end I was never very excited about anything that actually happened in the book. I would even say that I was a bit bored at times.
I do think that a lot of people will probably enjoy this book. It just didn't work for me. This is the first book by April Genevieve Tucholke and I would be very interested in trying one of her other novels since there were aspects of her writing style that I did enjoy.
I received an advance reader edition of this book from Penguin Publishing Group - Dial Books via First to Read for the purpose of providing an honest review.
About the Author




Photo by Sung Park

April Genevieve Tucholke is the author of Between the Devil and the Deep Blue Sea and Between the Spark and the Burn, and the curator of the Slasher Girls and Monster Boys anthology. She lives in Oregon.