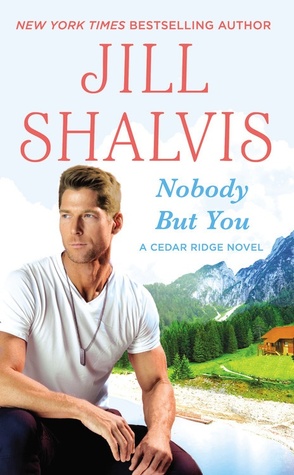 Nobody But You by Jill Shalvis
Series: Ceder Ridge #3
Forever Grand Central Publishing
Publication Date: March 29, 2016
Date Read: March 27, 2016
Source: NetGalley
★
★
★
★
☆

When Jacob was injured in the war, it changed him for life. Now all he wants to do is come home to Cedar Ridge, settle in at his lakeside cabin and get some much-needed peace and quiet. But there's no peace to be had when he finds a spitfire of a woman camping out on his property. Half the time he's not sure whether he wants to spank her or kiss--or maybe both. He's in a dark place and a dark mood, and here's this wildly hot woman who is also funny and light and may be the balm be needs to soothe his aching soul.

Sophie Marren is pretty much penniless after leaving her abusive husband. She doesn't have the money to pay rent or the slip fees for docking the boat where she's been sleeping. She was getting along just perfectly until the good-looking, brooding, I'm-too-sexy-for-myself guy moves into the lake cabin that the slip belongs to. Sure he's hot as the noon sun with those dark lens and even darker 'tude, but god forbid she tie herself to another man who's always telling her what to do. But the more she gets to know Jacob, the more she sees how willing he is to battle for her wounded heart...a battle she might just let him win.





This book was all kinds of wonderful! I can honestly say that I loved it and was rooting for Sophie and Jacob from the very start. This story really had a little bit of everything that I like to see in a romance novel and I found myself feeling perfectly content as I turned the pages. This is the third book in the Cedar Ridge series but each book in the series works perfectly well as a stand alone novel. This is only the second book by Jill Shalvis that I have read but I am quickly becoming a huge fan.
The characters in this book were wonderful. Sophie had a lot of spunk and I just loved her immediately. She is exactly what comes to mind when you think of a fiery redhead. Life has not been exactly kind to Sophie but she is making the most of what she has left. She is living on a boat that was her ex-husband's prize possession. He loved the boat while Sophie hates it. She is broke and working temp jobs to support herself.
Jacob is on leave from the military. He left Cedar Ridge and his family 9 years ago. He hasn't seen any of his siblings in that time including his identical twin, Hud. He has a lot of relationships to work to repair. When he comes across Sophie's boat moored at his cabin's dock, he is instantly drawn to her. I loved so much about Jacob. He was honest and willing to do what it takes to make things right again. He has been through a lot during his time in the service and has come out stronger in many ways.
The chemistry between Sophie and Jacob was amazing. They really are a wonderful couple. I liked the fact that the barriers to their relationship were really pretty minor. The main thing that this pair had to do was learn to trust each other and themselves. They really had to work together to make things work since they both had their own set of barriers. I loved how their emotions came across in the story in the description of small things like how they looked at each other.
I would highly recommend this book to fans of contemporary romance. This is a completely believable, entertaining, and sexy story filled with wonderful characters. I plan to read more from Jill Shalvis very soon starting with the second book in this series,
My Kind of Wonderful,
because I really want to read Hudson's story as soon as possible.
I received an advance reader edition of this book from Forever Grand Central Publishing via NetGalley for the purpose of providing an honest review.
Book #2 - My Kind of Wonderful
Book #3 - Nobody But You
About the Author




New York Times bestselling author Jill Shalvis lives in a small town in the Sierras full of quirky characters. Any resemblance to the quirky characters in her books is, um, mostly coincidental. Look for Jill's bestselling, award-winning books wherever romances are sold and visit her website for a complete book list and daily blog detailing her city-girl-living-in-the-mountains adventures.

a Rafflecopter giveaway