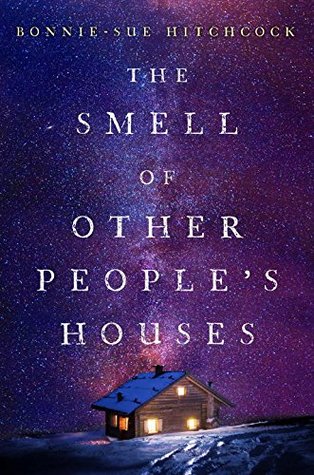 The Smell of Other People's Houses by Bonnie-Sue Hitchcock
Random House Children's - Wendy Lamb Books
Publication Date: February 23, 2016
Date Read: January 16, 2016
Source: NetGalley
★
★
★
★
☆
In Alaska, 1970, being a teenager here isn't like being a teenager anywhere else. This deeply moving and authentic debut is for fans of Rainbow Rowell, Louise Erdrich, Sherman Alexie, and Benjamin Alire Saenz. Intertwining stories of love, tragedy, wild luck, and salvation on the edge of America's Last Frontier introduce a writer of rare talent.

Ruth has a secret that she can't hide forever. Dora wonders if she can ever truly escape where she comes from, even when good luck strikes. Alyce is trying to reconcile her desire to dance, with the life she's always known on her family's fishing boat. Hank and his brothers decide it's safer to run away than to stay home—until one of them ends up in terrible danger.

Four very different lives are about to become entangled. This unforgettable book is about people who try to save each other—and how sometimes, when they least expect it, they succeed.





I really enjoyed reading this short little book. This book first grabbed my attention with its title. I loved the title and the purple cover is just beautiful. The story inside the cover was equally wonderful. I haven't read a lot of books set in Alaska so the setting was a big draw for me. This was one of those books that I didn't want to put down and I read most of it within a day.
This book is told from multiple points of view. I really enjoyed each character's voice almost equally in this book. I think that the way the book was put together really built up my need to know what was going to happen to everyone. I loved the fact that this was not just another teen romance. In fact, there really isn't any romance in this book at all but it full of emotion.
One of the main strengths of this book is the descriptions. I love that scents are included in some of the descriptions. The book isn't packed with description of different smells but they are occasionally mentioned and help give a nicely rounded complete picture of the environment. I did find myself wishing that the time period would have had a stronger feel in the story. There were moments that the 1970's setting of the book was clearly illustrated. There were other times that I almost forgot that the events take place during a different time period.
I really liked that this book wasn't afraid to deal with very difficult topics. I am actually quite surprised that this one little book decided to focus on so many issues and that it ended up working so well. Poverty, teen pregnancy, and abuse all have a place in this book but I was still able to find hope in the story. It is really quite amazing that this story could have such a positive ending.
I would highly recommend this book to others. It was a really engrossing story that I found hard to put down. This is the first book by Bonnie-Sue Hitchcock that I have read but I would not hesitate to pick up her work in the future.
I received an advance reader edition of this book from Random House Children's - Wendy Lamb Books via NetGalley for the purpose of providing an honest review.
About the Author




Bonnie-Sue Hitchcock was born and raised in Alaska. She worked many years fishing commercially with her family and as a reporter for Alaska Public Radio stations around the state. She was also the host and producer of "Independent Native News," a daily newscast produced in Fairbanks, focusing on Alaska Natives, American Indians, and Canada's First Nations. Her writing is inspired by her family's four generations in Alaska.