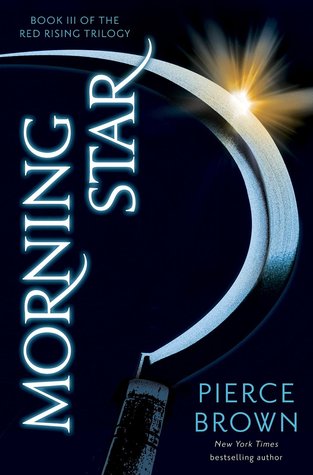 Morning Star by Pierce Brown
Random House - Del Ray
Publication Date: February 9, 2016
Date Read: February 14, 2016
Source: Library
★
★
★
★
☆
Darrow would have lived in peace, but his enemies brought him war. The Gold overlords demanded his obedience, hanged his wife, and enslaved his people. But Darrow is determined to fight back. Risking everything to transform himself and breach Gold society, Darrow has battled to survive the cutthroat rivalries that breed Society's mightiest warriors, climbed the ranks, and waited patiently to unleash the revolution that will tear the hierarchy apart from within.

Finally, the time has come.

But devotion to honor and hunger for vengeance run deep on both sides. Darrow and his comrades-in-arms face powerful enemies without scruple or mercy. Among them are some Darrow once considered friends. To win, Darrow will need to inspire those shackled in darkness to break their chains, unmake the world their cruel masters have built, and claim a destiny too long denied - and too glorious to surrender.





This was an incredibly strong ending to a wonderful trilogy. I love it when I can become so immersed in a world that it seems real to me. Darrow's world is real in my mind. I did have a bit of trouble keeping up with who was who in this book but that is probably just because of my aging memory. There were times while I was reading this book that I had to really think back to the previous books to remember all the things these characters have done. I do wish that I had re-read the first two books prior to jumping into this book but I ended up doing okay in the end.
This book starts a few months after the previous book ended. Darrow ended that last book on a real low. I remember how upset I was when I read the end of
Golden Son
. I wanted to see Darrow right all of the wrongs and maybe get a little bit of revenge. Darrow really starts this book at the lowest point in the whole trilogy and it was at times painful to see.
The rest of the characters have been dealing with a lot. I really wasn't sure what was going on with Sevro for the first part of the book but by the end he won me over again as he always does. I loved Ragnar throughout the story. It was nice to see all the people that Darrow has been close to regardless of color come together in this book although it did test my memory at times.
This book is filled with action and political maneuvering just like the first two but at times the stakes felt higher in this one. There were more than a few times where I was incredibly anxious about what was going on in the story and other times that I wanted to curl up and shed a few tears. I laughed a time or two as well. I love any book that can make me go through such a wide range of emotions in a single story.
It wasn't a perfect story. I am not a big fan of the ending. I had to think about things for a few days and I am still not really very happy with the big reveal at the end of the story. Other reader may love it though. I also felt like this book was a bit more tedious to read. That may be because of my memory issues from the first two books. It just seemed that I really had to take things a little slower and focus to keep track of everyone during some of the more action packed scenes.
I would highly recommend this book to others. This is part of a trilogy that really needs to be read in order and I would recommend reading all three books in quick succession if at all possible. This is a trilogy that I know I read again. I can't wait to see what Pierce Brown comes up with next.
Book #3 - Morning Star
About the Author

Photo by Joan Allen




Pierce Brown spent his childhood building forts and setting traps for cousins in the woods of six states and the deserts of two. Graduating from college in 2010, he fancied the idea of continuing his studies at Hogwarts. Unfortunately, he doesn't have a magical bone in his body. So while trying to make it as a writer, he worked as a manager of social media at a startup tech company, toiled as a peon on the Disney lot at ABC Studios, did his time as an NBC page, and gave sleep deprivation a new meaning during his stint as an aide on a U.S. Senate campaign. Now he lives Los Angeles, where he scribbles tales of spaceships, wizards, ghouls, and most things old or bizarre.