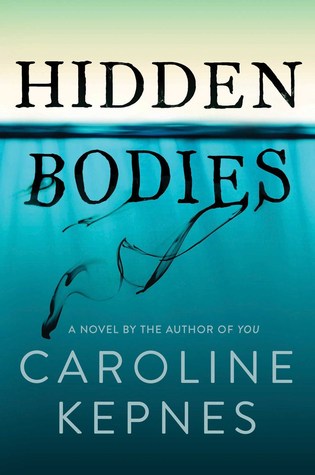 Hidden Bodies by Caroline Kepnes
Series: You #2
Atria Books
Publication Date: February 23, 2016
Date Read: February 20, 2016
Source: NetGalley
★★★★
★
In the compulsively readable follow-up to her widely acclaimed debut novel, You, Caroline Kepnes weaves a tale that Booklist calls "the love child of Holden Caulfield and Patrick Bateman."

Hidden Bodies marks the return of a voice that Stephen King described as original and hypnotic, and through the divisive and charmingly sociopathic character of Joe Goldberg, Kepnes satirizes and dissects our culture, blending suspense with scathing wit.

Joe Goldberg is no stranger to hiding bodies. In the past ten years, this thirty-something has buried four of them, collateral damage in his quest for love. Now he's heading west to Los Angeles, the city of second chances, determined to put his past behind him.

In Hollywood, Joe blends in effortlessly with the other young upstarts. He eats guac, works in a bookstore, and flirts with a journalist neighbor. But while others seem fixated on their own reflections, Joe can't stop looking over his shoulder. The problem with hidden bodies is that they don't always stay that way. They re-emerge, like dark thoughts, multiplying and threatening to destroy what Joe wants most: truelove. And when he finds it in a darkened room in Soho House, he's more desperate than ever to keep his secrets buried. He doesn't want to hurt his new girlfriend—he wants to be with her forever. But if she ever finds out what he's done, he may not have a choice...





I liked this book so much better than I liked the first book in the series,
You
. I went into
You
with really high expectations. I had expected to fall head over heels in love with it and maybe even offer to have Joe's babies. I liked the book well enough in the end but it was really just okay for me in a lot of ways. I started this book unsure if I would really like it or not. Would Joe's rambling drive me crazy this time? Would he spend another whole book describing minor details about his newest victim? I really didn't know what to expect.
Joe didn't seem to ramble like he did in the first book. It could be that I went into the book expecting some rambling but I actually liked the time spent in Joe's head this time around. Joe's thought processes aren't really healthier in this book but he seemed to make a little more sense to me. His goals were different and his thoughts seemed a bit more logical in a serial killer sort of way.
I really liked the fact that the action in this book seemed to start earlier. I liked
You
a lot better once Joe started actually acting on some of his impulses. In this book, Joe takes action a lot sooner in the story and I was never quite sure what he was going to do. It seemed that the pacing was a lot better with some lead up then action repeated throughout the book. The excitement really kept me hooked this time around.
I liked the characters in the book a lot better. I am starting to really like Joe a lot. I am not willing to have his babies just yet but he is growing on me. Love was simply awesome. I loved everything about Love. Forty was a loose cannon and added a extra element because you never knew what he might do. Amy made me a little mad and I wanted to help Joe plan his revenge on her. There were so many wonderful characters that fit into this story. I even really liked all of the celebrity name dropping and thought it added a fun element to the book.
The writing in the book was well done. The book had a great flow with the story moving seamlessly from one location to another. There was just enough description to paint a completely vivid picture throughout the book. I like the way that the characters' emotions really came across. This was book that completely pulled me in and was hard to put down.
I would highly recommend this book to others. I am so glad that I decided to go ahead and continue with the series despite the fact that I wasn't blown away by
You
. I definitely plan to read more books by Caroline Kepnes in the future.
I received an advance reader edition of this book from Atria Books via NetGalley for the purpose of providing an honest review.
Book #2 - Hidden Bodies
About the Author