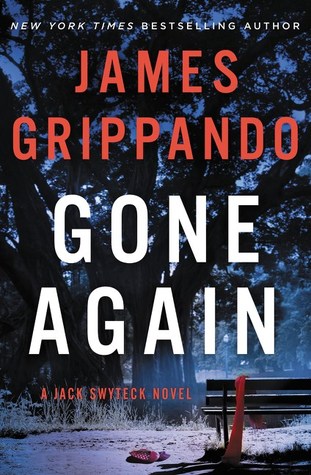 Gone Again by James Grippando
HarperCollins Publishers - Harper
Publication Date: March 1, 2016
Date Read: February 25, 2016
Source: Edelweiss
★
★
★
★
★
In this electrifying and fast-paced tale of suspense from the bestselling author of the acclaimed Cash Landing, Cane & Abe, and Black Horizon, Miami criminal defense lawyer Jack Swyteck takes on his first death-row client since The Pardon In a case as twisty as it is shocking

Sashi Burgette vanished three years ago on her way to school. The night after the teenager's disappearance, ex-con Dylan Kyle was stopped for drunk driving. An article of Sashi's clothing was found in his truck, and a police videotape of his drunken explanation under interrogation sealed his fate at trial. Now, just days from Kyle's execution, Sashi's mother visits Jack Swyteck, doing pro bono work at the Freedom Institute, and delivers shocking news: "Sashi called me."

The police dismiss the call as a cruel hoax. The State Attorney refuses to consider the new evidence, insisting the case is closed. The governor has already signed the death warrant. An innocent man may be executed and time is running out—unless his lawyers can locate Sashi.

A man of principle who believes in justice, Jack jumps into the investigation. But the deeper he digs the more he discovers that nothing is what it appears to be. Not the victim. Not her alleged killer. And definitely not Sashi's parents, whose grief ruptured their marriage, each openly blaming the other for what happened to their daughter.

As their gut-wrenching and hopelessly conflicting version of events unfolds in a Miami courtroom, it becomes clear there is something even more difficult to find than a long-missing girl . . .

The truth.




I absolutely loved this book! I first stumbled upon this author about 10 years ago and have yet to be let down by one of his books. I am pretty sure that there may be a book or two of his that I have missed along the way but I have read the bulk of his work. The Jack Swyteck series is smartly written. I love how much this character has developed over the course of the series. I really like that each new book in the series can still be easily read as a stand alone so new readers can feel comfortable jumping in at any point.
Jack Swyteck is back at the Freedom Institute and working on a death row case. He doesn't really plan to get involved in the cases there but he doesn't need a lot of convincing to jump into this particular case after a visit from the victim's mother. Dylan Reeves is due to face execution very soon for the rape and murder of Sashi Burgette. Sashi's body was never recovered and her mother is convinced that she is still alive.
Jack is soon leading the fight to win Dylan a little bit of time so that they can figure out what really happened. The quest to find out what actually happened to Sashi takes more than a few twists and turns as the story moves forward. I was never quite sure who was being honest and who should be trusted. I liked all of the courtroom scenes and the legal maneuvering that was part of the story. Jack and the rest of the crew spend more than a few late nights trying to get everything done in time.
I enjoyed the writing style immensely. The legal process was nicely balanced with the fact-finding detective work. The inclusion of some less than trust worthy characters really kept me wondering what was going on. I really had no idea where the book would end up or how it would get there. I simply couldn't not put this one down and read the book from cover to cover in less than 24 hours. The story really does pull you in right away and doesn't let go until the very end.
I would highly recommend this book to fans of mystery thrillers. James Grippando is an author that never disappoints and has created an incredibly intelligent and smart character in Jack Swyteck. I can't wait to get my hands on the next book by this very talented author.
I received an advance reader edition of this book from HarperCollins Publishers - Harper via Edelweiss for the purpose of providing an honest review.
About the Author




Monica Hopkins photography

James Grippando is a New York Times bestselling author of suspense.This is his twenty-third novel. James Grippando was a trial lawyer for twelve years before the publication of his first novel in 1994 (The Pardon), and now serves as Counsel to Boies Schiller & Flexner LLP. He lives in Coral Gables, Florida, with his wife, three children, two cats, and a golden retriever named Max who has no idea that he's a dog.