#Review and Release Day Blitz - I Wish You Were Mine by Lauren Layne @_laurenlayne @readloveswept @givemebooksblog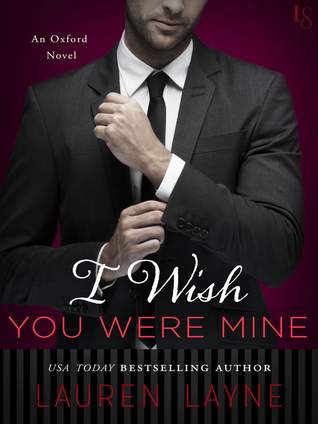 I Wish You Were Mine by Lauren Layne
Series: Oxford #2
Random House Publishing Group - Loveswept
Publication Date: February 2, 2016
Date Read: January 24, 2016
★
★
★
☆
☆
Perfect for fans of Alice Clayton and Emma Chase, Lauren Layne's Oxford series heats up in this story of forbidden desire as a brooding jock hoping for a comeback falls for a woman who's strictly off-limits.

A year ago, Jackson Burke was married to the love of his life and playing quarterback for the Texas Redhawks. Now he's retired, courtesy of the car accident that ruined his career—and single, after a nasty scandal torpedoed his marriage. Just as he's starting to get used to his new life as a health and fitness columnist for Oxford magazine, his unpredictable ex shows up on his doorstep in Manhattan. Jackson should be thrilled. But he can't stop thinking about the one person who's always been there for him, the one girl he could never have: her younger sister.

Mollie Carrington can't say no to Madison. After all, her older sister practically raised her. So when Madison begs for help in winning her ex-husband back, Mollie's just glad she got over her own crush on Jackson ages ago—or so she thought. Because as Mollie reconnects with Jackson, she quickly forgets all her reasons to stay loyal to her sister. Tempted by Jackson's mellow drawl and cowboy good looks, Mollie is sick and tired of coming in second place. But she can't win if she doesn't play the game.





Of course I liked this book. Lauren Layne wrote it so that is kind of a given. I do have to say that this is my least favorite Lauren Layne book that I have read so far. I will admit that I didn't read the description before grabbing it. I saw the name on the cover and that was the end of my thought process when it came to selecting this book. This was probably a mistake on my end because I may have thought twice about reading this book if I had known that it was going to be about sisters.
I should probably say up front that for me there are certain lines that are never to be crossed. Never. Dating your sister's former husband isn't even in grey territory for me. It is way over the line that should never be crossed. I do try to just go with a situation in a fictional book because...well, because it is fiction. I had really hoped that the focus of the book would be squarely put on Mollie and Jackson and I could just kind of forget about the sister/ex-wife. Nope. The sister/ex-wife was in the book all the time so there was no forgetting about it.
There were parts of the book that I did really like. Jackson's personal growth during the story was really nice to watch. I loved it when he realized that his dreams had changed as his life had changed. Mollie was really pretty awesome when she wasn't being walked on by her ridiculous sister. I did sense the chemistry between the pair from the very beginning of the story.
Madison was really a piece of work. She was actually pretty easy to hate in this story. Madison and Mollie were definitely at opposite ends of the sister spectrum. I didn't like her presence in the book. I don't think that she added anything to the story except a level of discomfort. I get that she was not a nice person and that she was very self centered but that didn't make me feel any better about Mollie starting a relationship with her sister's ex-husband.
I would recommend this book to anyone who can overlook the sisters angle. I did enjoy many parts of the book. I do plan to continue to read Lauren Layne's work including future installments in this series. I am ready for Lincoln's story!
I received an advance reader edition of this book from Random House Publishing Group - Loveswept via NetGalley for the purpose of providing an honest review.
Book #1 - Irresistibly Yours - My Review
About the Author


Lauren Layne is the USA Today bestselling author of more than a dozen contemporary romance novels. Prior to becoming an author, Lauren worked in e-commerce and web-marketing. A year after moving from Seattle to NYC to pursue a writing career, she had a fabulous agent and multiple New York publishing deals. Lauren currently lives in Manhattan with her husband and plus-sized Pomeranian. When not writing, you'll likely find her running (rarely), reading (sometimes), or at happy hour (often).