February 2, 2016

It's Tuesday! That means it is time to make a little bit of room on the bookshelves, load up your ereader, or make your way to your local library. In other words - It is time to get your hands on a new book!
Here are just a few books that have just been released that you may want to grab soon:
Amazon
|
Barnes & Noble
|
Kobo
|
BAM!
My Review
Don't look away

No one wants to be the mother whose child disappears. It's unthinkable, the stuff of nightmares. But when she turns her back to pay a parking meter, Carrie Morgan becomes that mother. Ben is gone, and more than a year later, it's clear that he is never coming back.

Until he does...for just twenty-four hours, before once again vanishing from his crib without a trace. Rumors start to circulate through Carrie's small town. Whispers that she's seeing things. That her alibi doesn't quite add up.

Her husband and friends start to think she's crazy. The police start to think she's guilty. As the investigation heats up, Carrie must decide what to share, and why. Because the crime is about to be solved... and her secret revealed.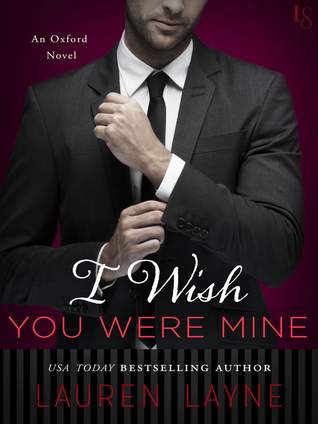 I Wish You Were Mine by Lauren Layne
Perfect for fans of Alice Clayton and Emma Chase, Lauren Layne's Oxford series heats up in this story of forbidden desire as a brooding jock hoping for a comeback falls for a woman who's strictly off-limits.

A year ago, Jackson Burke was married to the love of his life and playing quarterback for the Texas Redhawks. Now he's retired, courtesy of the car accident that ruined his career—and single, after a nasty scandal torpedoed his marriage. Just as he's starting to get used to his new life as a health and fitness columnist for Oxford magazine, his unpredictable ex shows up on his doorstep in Manhattan. Jackson should be thrilled. But he can't stop thinking about the one person who's always been there for him, the one girl he could never have: her younger sister.

Mollie Carrington can't say no to Madison. After all, her older sister practically raised her. So when Madison begs for help in winning her ex-husband back, Mollie's just glad she got over her own crush on Jackson ages ago—or so she thought. Because as Mollie reconnects with Jackson, she quickly forgets all her reasons to stay loyal to her sister. Tempted by Jackson's mellow drawl and cowboy good looks, Mollie is sick and tired of coming in second place. But she can't win if she doesn't play the game.
They're single, they're rich, and now these billionaire bachelors are heading to Sanctuary Island, where love awaits.

Leo, Zane, and Cooper made a pact to stay bachelors and enjoy the single life forever, and when they receive an invitation to their friend Miles' wedding, they head down to Sanctuary Island determined to talk some sense into the errant groom before he makes a life-changing mistake. But Miles knows his own mind, and he makes a vow of his own: before he walks down the aisle, he'll have Leo, Zane, and Cooper changing their tune about matrimony. Because Miles knows, better than anyone, that all it takes is a little Sanctuary Island magic to turn romantic cynics into true believers.
The USA TODAY bestselling author of the Ten Tiny Breaths and Burying Water series makes her suspense debut with this sexy, heartpounding story of a young woman determined to find justice after her best friend's death, a story pulsing with the "intense, hot, emotional" (Colleen Hoover) writing that exhilarates her legions of fans.

A woman who almost had it all . . .

On the surface, Celine Gonzalez had everything a twenty-eight-year-old woman could want: a one-bedroom apartment on Manhattan's Lower East Side, a job that (mostly) paid the bills, and an acceptance letter to the prestigious Hollingsworth Institute of Art, where she would finally live out her dream of becoming an antiques appraiser for a major auction house. All she had worked so hard to achieve was finally within her reach. So why would she kill herself?

A man who was supposed to be her salvation . . .

Maggie Sparkes arrives in New York City to pack up what's left of her best friend's belongings after a suicide that has left everyone stunned. The police have deemed the evidence conclusive: Celine got into bed, downed a lethal cocktail of pills and vodka, and never woke up. But when Maggie discovers a scandalous photograph in a lock box hidden in Celine's apartment, she begins asking questions. Questions about the man Celine fell in love with. The man she never told anyone about, not even Maggie. The man Celine believed would change her life.

Until he became her ruin.

On the hunt for evidence that will force the police to reopen the case, Maggie uncovers more than she bargained for about Celine's private life—and inadvertently puts herself on the radar of a killer. A killer who will stop at nothing to keep his crimes undiscovered.