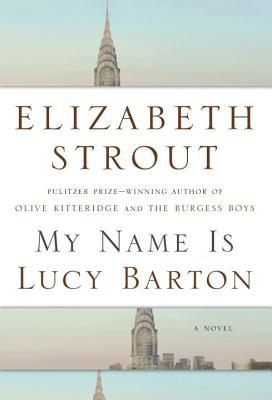 My Name is Lucy Barton by Elizabeth Strout
Random House
Publication Date: January 12, 2016
Date Read: December 29, 2015
A new book by Pulitzer Prize winner Elizabeth Strout is cause for celebration. Her bestselling novels, including Olive Kitteridge and The Burgess Boys, have illuminated our most tender relationships. Now, in My Name Is Lucy Barton, this extraordinary writer shows how a simple hospital visit becomes a portal to the most tender relationship of all—the one between mother and daughter.

Lucy Barton is recovering slowly from what should have been a simple operation. Her mother, to whom she hasn't spoken for many years, comes to see her. Gentle gossip about people from Lucy's childhood in Amgash, Illinois, seems to reconnect them, but just below the surface lie the tension and longing that have informed every aspect of Lucy's life: her escape from her troubled family, her desire to become a writer, her marriage, her love for her two daughters. Knitting this powerful narrative together is the brilliant storytelling voice of Lucy herself: keenly observant, deeply human, and truly unforgettable.
Amazon
|
Barnes & Noble
|
Kobo
|
BAM!
I didn't expect to like this book nearly as much as I did. It is a rather short book that I easily read in a single evening but it tells a big story. I found myself really relating to just about everything in this book. I have spent more hours with family members at the hospital than I would have dreamed possible in my younger days. It is just a fact of life for most people that the people you love will get sick and need you while they are in the hospital. Or maybe you need to make sure that they are really okay so you go to the hospital just to make sure. Either way, it seems like large portions of some years are spent sitting in an comfortable plastic chair while tests are performed and surgery is completed. As you may have guessed, I have served my time in one of those plastic chairs.
I love the way that this story is told. I got to know Lucy Barton the way that I get to know people in my life - one story at a time. This book jumped all over the place, back and forth in time, from one story to the next. Sometimes the story focused on Lucy and sometimes it focused on a person from the town she grew up in. I could really relate to just about everything in this book. It almost felt like I was sitting in that room listening to all of the stories being told.
Every single part of this book comes together to paint a much larger picture. This was really a story of Lucy's life. One of the most powerful things in the book is how the relationship between Lucy and her mother is illustrated through their interactions in the hospital room. Is there anything more complicated than a mother-daughter relationship at times? There is a lot of insight about how Lucy became the woman that she is and how strong she really has proven to be.
This was one of those books that really was almost impossible for me to put down even though nothing overly exciting ever happens. I am in awe of writing that can grab hold of me like that. The writing in this book was superb and not a word was wasted. The depth of the story and characters in such a short book is actually quite amazing.
I would highly recommend this book to others. This is the first book by Elizabeth Strout that I have had a chance to read but I am definitely planning on changing that very soon.
I received an advance reader edition of this book from Random House Publishing Group via NetGalley for the purpose of providing an honest review.
About the Author

Photo: © Andrea Sperling




Elizabeth Strout is the Pulitzer Prize–winning author of Olive Kitteridge, as well as The Burgess Boys, a New York Times bestseller; Abide with Me, a national bestseller; and Amy and Isabelle, which won the Los Angeles Times Art Seidenbaum Award for First Fiction and the Chicago Tribune Heartland Prize. She has also been a finalist for the PEN/Faulkner Award and the Orange Prize in England. Her short stories have been published in a number of magazines, including The New Yorker and O: The Oprah Magazine. Elizabeth Strout lives in New York City.