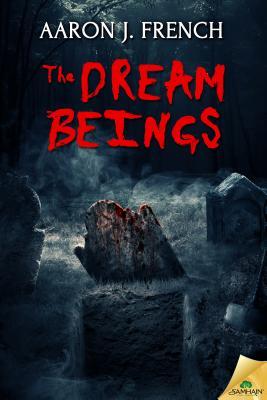 The Dream Beings by Aaron J. French
Samhain Publishing, Ltd.
Publication Date: January 5, 2016
Date Read: November 9, 2015
"Born with a mysterious gift he never wanted... a gift that could mean his death."

When Jack Evens's name appears in blood at the scene of a grotesque ritualistic murder, the private investigator is drawn into a conflict that extends beyond reality, into the realm of dreams...and nightmares.

A serial killer is after him, but this is no ordinary psychopath. This killer is controlled by mysterious creatures from another realm. If he hopes to survive, Jack must finally come to terms with his psychic ability, a gift that has haunted him since he was a child.

At stake are the women the killer has targeted, Jack's own life, and something much more...something of cosmic proportions.
Amazon
|
Barnes & Noble
|
Kobo
|
BAM!
I didn't like this book at all. I am not really sure why I decided to request this one from NetGalley. I might have been on romance overload and this cover looks just spooky enough to grab my attention. The book had a pretty good start with prologue and I really thought that this was going to be the bloody story that I was wanting to read. Unfortunately for me, the book went downhill from there.
I realized pretty early on that I was not connecting with this book at all. I seriously considered not finishing the story and moving on to the next book. Since it was such a short book at roughly 100 pages, I decided to go ahead and finish it. I can honestly say that I wish I had followed my gut instinct at the very beginning of the book and just stopped because I gained nothing by finishing this book except for possibly a slight headache.
The story confused me. I am still not exactly sure what these dream beings really were (some kind of alien beings or something) and to be honest I don't think I care. The writing seemed awkward which made it really difficult to stay focused on the story. The characters were not well developed and I never connected with any of them. Even during the final scene when things looked rather grim for Jack, I found that I really didn't care if things worked out for him or not.
Unfortunately, I cannot recommend this story to others. This is the first time that I have read anything by Aaron J. French and I think I will skip his writing in the future.
I received an advance reader edition of this book from Samhain Publishing, Ltd. via NetGalley for the purpose of providing an honest review.