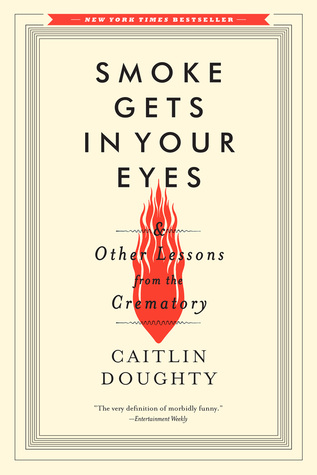 Smoke Gets in Your Eyes: And Other Lessons from the Crematory by Caitlin Doughty
W.W. Norton & Company
Publication Date: September 15, 2014
Date Read: November 30, 2015
Most people want to avoid thinking about death, but Caitlin Doughty—a twenty-something with a degree in medieval history and a flair for the macabre—took a job at a crematory, turning morbid curiosity into her life's work. Thrown into a profession of gallows humor and vivid characters (both living and very dead), Caitlin learned to navigate the secretive culture of those who care for the deceased.

Smoke Gets in Your Eyes tells an unusual coming-of-age story full of bizarre encounters and unforgettable scenes. Caring for dead bodies of every color, shape, and affliction, Caitlin soon becomes an intrepid explorer in the world of the dead. She describes how she swept ashes from the machines (and sometimes onto her clothes) and reveals the strange history of cremation and undertaking, marveling at bizarre and wonderful funeral practices from different cultures.

Her eye-opening, candid, and often hilarious story is like going on a journey with your bravest friend to the cemetery at midnight. She demystifies death, leading us behind the black curtain of her unique profession. And she answers questions you didn't know you had: Can you catch a disease from a corpse? How many dead bodies can you fit in a Dodge van? What exactly does a flaming skull look like?

Honest and heartfelt, self-deprecating and ironic, Caitlin's engaging style makes this otherwise taboo topic both approachable and engrossing. Now a licensed mortician with an alternative funeral practice, Caitlin argues that our fear of dying warps our culture and society, and she calls for better ways of dealing with death (and our dead).
Amazon
|
Barnes & Noble
|
Kobo
|
BAM!
This was the best little book that I didn't even know that I wanted to read. I have to say that I would have probably never picked this book up for myself. I didn't even know that this book existed until it showed up at my house a couple of weeks ago. My initial impression of the book when I received was lackluster at best. I thought it was an advance copy of a book at first because the cover looks just so unfinished. Nothing about this book screamed "Read Me" at first glance. But then I decided to pick it up and my thoughts changed very quickly.
Whatever stars lined up on the day this book found its way to my home, I can't say but I am very grateful. This really is the perfect book for me. I have a slight fascination with death. My favorite class in college was Death Education. When the local coroner came to class to give a presentation complete with slides, I was completely impressed. I have never worked in the death industry but my husband actually has delivered caskets part-time for the past couple of years.
This book deals with a difficult subject in a way that really pulls the reader in. I think everyone could find something in this book that they would relate to in these pages. I liked that this book made me think and it also made me laugh. I didn't think that this was a sad or depressing book at all which is kind of surprising when you think of the subject matter. I learned a lot from reading this book. There are so many misconceptions regarding death and the funeral industry. I do think that most people really would appreciate this honest look at the subject.
Each of the people that are in this book really add to the overall story. Everyone from Caitlin's co-workers to the families who have lost someone they loved really had a story to tell. I liked the parts that featured Caitlin's co-workers because I feel like it takes a special kind of person to want to do this kind of work. People who work in the funeral industry really see people when they are at their worst but they must stay at their best. It has to be incredibly hard to do that day after day. I really appreciated the parts of the book that really let us see how much this kind of work affected the author.
I liked the way that this book was written. I was completely engaged in the book from the very beginning. I think it reads almost like one of your friends are telling you a story. Even the more educational sections that gave some history were completely mesmerizing. There was enough lighthearted and funny moments to balance out the sections that were really anything but funny.
I would highly recommend to others. I think that this is a topic that we need to know more about and this is an entertaining way to get a peek. This is the first book by Caitlin Doughty that I have read but I would definitely read more of her work in the future.
I received a copy of this book from W.W. Norton & Company for the purpose of providing an honest review.
About the Author


Caitlin Doughty is a licensed mortician and the host and creator of the "Ask a Mortician" web series. She founded the death acceptance collective The Order of the Good Death and cofounded Death Salon. She lives in Los Angeles.