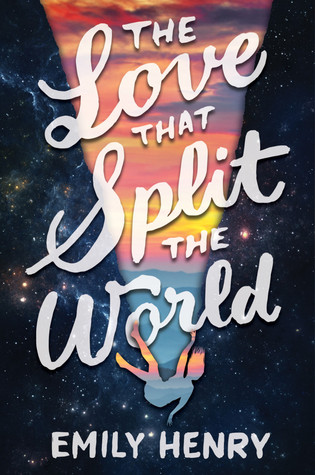 The Love That Split the World by Emily Henry
Penguin Group - Razorbill
Publication Date: January 26, 2016
Date Read: December 14, 2015
Natalie Cleary must risk her future and leap blindly into a vast unknown for the chance to build a new world with the boy she loves.

Natalie's last summer in her small Kentucky hometown is off to a magical start... until she starts seeing the "wrong things." They're just momentary glimpses at first—her front door is red instead of its usual green, there's a pre-school where the garden store should be. But then her whole town disappears for hours, fading away into rolling hills and grazing buffalo, and Nat knows something isn't right.

That's when she gets a visit from the kind but mysterious apparition she calls "Grandmother," who tells her: "You have three months to save him." The next night, under the stadium lights of the high school football field, she meets a beautiful boy named Beau, and it's as if time just stops and nothing exists. Nothing, except Natalie and Beau.

Emily Henry's stunning debut novel is Friday Night Lights meets The Time Traveler's Wife, and perfectly captures those bittersweet months after high school, when we dream not only of the future, but of all the roads and paths we've left untaken.
Amazon
|
Barnes & Noble
|
Kobo
|
BAM!
I think that my expectations for this book were set way too high. I was really needing to read one of those books that grab a hold of you and refuses to let go. On Goodreads, the reviews are amazing so I decided that this would be the next book that I fell in love with and it almost worked. I liked it but I didn't fall in love with it. I am giving this book a very generous 4 stars but it comes very close to being a 3 star read for me.
The overall premise of the story was very interesting. Natalie starts seeing things wrong. Things in her town seem to appear and disappear but she is the only one who seems to notice. She has been visited by Grandmother for much of her life and has been in a lot of therapy as a result. Grandmother spends her visits telling stories which I found to be very engaging. Natalie meets a young man named Beau just as things start happening rapidly. When Natalie learns that she has three months to save him, she must figure out what is going on and who she needs to save.
This book did have a lot of things going for it. It was truly a unique story that kept me guessing. This book actually kept me up past my bedtime more than once just because I felt like I needed to figure out what was going on. The pacing of the story was nearly perfect with information being share piece by piece in a manner that really kept my interest. I did enjoy the overall writing style.
There were also a few things that I didn't care for as much in this story. I was able to figure out the two main mysteries in the book very early on. I was actually very disappointed when my predictions were correct. I did get a little tired of the focus on the romance in this story. There were so many other things going on that were more interesting that I really wanted to stay focused on. I honestly did not care for how this book ended...at all. When I turned the last page and realized that the book was actually ending as it did, I wanted to throw it across the room.
I would recommend this book to fans of Young Adult novels. I do think that this book will prove to be very popular largely due to its uniqueness. This is the first novel by Emily Henry and I look forward to reading her future works.
I received an advance reader edition of this book from Penguin Group - Razorbill via First to Read for the purpose of providing an honest review.
About the Author


Emily Henry is full-time writer, proofreader, and donut connoisseur. She studied creative writing at Hope College and the New York Center for Art & Media Studies, and now spends most of her time in Cincinnati, Ohio, and the part of Kentucky just beneath it. She tweets @EmilyHenryWrite.