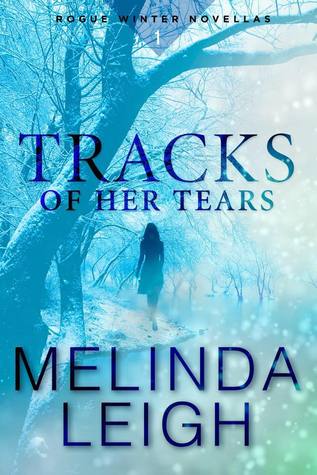 Tracks of Her Tears by Melinda Leigh
Series: Rogue Winter #1
Montlake Romance
Publication Date: November 10, 2015
Date Read: November 12, 2015
In the first thrilling Rogue Winter Novella, sleepy little Solitude, Oregon, wakes up to another deadly threat.

County investigator Seth Harding intends to spend the holidays with his newly reconciled family, but a few days before Christmas, a homicide thwarts his plan. Seth arrives at the scene and makes a painful discovery: the victim is his brother-in-law's girlfriend. Her apartment has been ransacked and her toddler left motherless. To make matters worse, Seth's brother-in-law, Bruce, is missing. With Solitude locked in a rare, deadly deep freeze and the temperature plummeting, the residents launch a desperate search.

Seth calls his wife, social worker Carly Taylor, to take the case so the little girl doesn't get lost in the foster care system. With the holidays near, Carly brings the child home with them to celebrate Christmas. But when the Taylor farm is also trashed, Seth and Carly must race against time—and against a paralyzing winter storm—to find Bruce and catch a killer in the first pulse-pounding sequel to the Rogue River Novellas.
Amazon
|
Barnes & Noble
|
BAM!
I have been reading a lot of shorter pieces lately. When I saw this novella, it just appealed to me for some reason. It turned out to be a pretty decent little read. I have had a really hard time deciding if it is a 3 star or a 4 star read but I am feeling generous right now so I am just going to go with the 4 stars. I was pleasantly surprised when I reached the end of this piece and didn't find a huge cliffhanger. I had made the assumption that this story would continue in the next novella. This novella probably really earns that bonus star just for wrapping everything up for me.
This story revolves around a mystery involving Seth and Carly's family. Seth, the local detective, is called to investigate a murder but quickly learns that he actually knows the victim. The victim is actually his brother-in-law's girlfriend so she is practically family. It turns out the the brother-in-law, Bruce, is also missing. Seth works to find the killer and Bruce. He asks his wife, Carly, to deal with the murder victim's infant daughter since she is a social worker.
I really liked the characters in this story. They just seemed like real people that have to deal with their family, their jobs, and all the problems that go with it. The secondary characters were well done and I thought that they added a lot to the story. I did like Seth and Carly a lot more when they were in mystery solving mode. When the story tried to be romantic, I really just found it to be overly mushy without adding anything to the plot. This novella almost looses that 4th star for all the mushy scenes but once again, I am feeling generous.
There were a few twists and turns as well as a couple of pretty exciting moments thrown into the story. I thought that the mystery was surprisingly complex for such a short piece. The conclusion to the story was really very believable which is a huge plus. The pacing was well done with the exception of a couple of mushy moments that seemed to stall the story. I did expect some romantic scenes but the ones in this piece felt forced and rather out of place. The use of multiple narratives worked well in this piece with each part adding to the story.
I would recommend this novella to fans of romantic suspense. This is the perfect story to grab if you are looking for a shorter piece that can be read in a short amount of time. This is the first time that I have read Melinda Leigh's work but I will definitely be looking for her books in the future. I can't wait to read the second novella in this series.
I received an advance reader edition of this book from Amazon Publishing - Montlake Romance via NetGalley for the purpose of providing an honest review.
About the Author




Photo by Marti Corn Photography