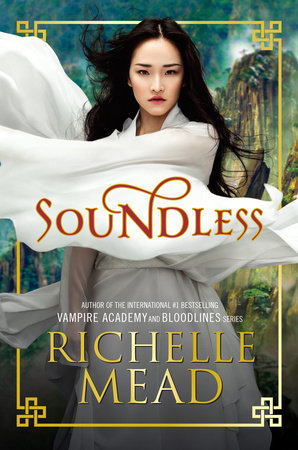 Soundless by Richelle Mead
Penguin Group - Razorbill
Publication Date: November 10, 2015
Date Read: October 2, 2015
From Richelle Mead, the #1 internationally bestselling author of Vampire Academy and Bloodlines, comes a breathtaking new fantasy steeped in Chinese folklore.

For as long as Fei can remember, there has been no sound in her village, where rocky terrain and frequent avalanches prevent residents from self-sustaining. Fei and her people are at the mercy of a zipline that carries food up the treacherous cliffs from Beiguo, a mysterious faraway kingdom.

When villagers begin to lose their sight, deliveries from the zipline shrink and many go hungry. Fei's home, the people she loves, and her entire existence is plunged into crisis, under threat of darkness and starvation.

But soon Fei is awoken in the night by a searing noise, and sound becomes her weapon.

Richelle Mead takes readers on a triumphant journey from the peak of Fei's jagged mountain village to the valley of Beiugo, where a startling truth and an unlikely romance will change her life forever...
Amazon
|
Barnes & Noble
|
Kobo
|
BAM!
I enjoyed this book and found it really hard to put down. I was very excited to get my hands on an early copy of the new stand alone novel by Richelle Mead. While I own quite a few of her books, I had not read any of them before reading this book. This book ended up being something quite different than I had expected but I enjoyed every page of the story it told.
Fei lives in a village high in the mountains. Everyone who lives in her village is unable to hear. They are also unable to grow food in the village so they must rely on the zipline that sustains them through the food that is sent up. They are a mining village and the metals that they get from the mine are exchanged for the food that is keeping them alive. Unfortunately, the exchange is not at all generous and the village has a very limited supply of food. Any complaints are met with a reduction in the supplies sent. Some of the villagers are beginning to lose their sight which may put the village into further jeopardy.
Fei and Li Wei decide to do something about the situation. They will leave the village despite the risks to try to help the people from the village including Fei's sister who has begun to loose her sight. During their journey, they will learn the truth about their situation and will realize that everything that they have always believed is part of the lie that they have been living.
The characters in this book are absolutely amazing. Fei is tough and willing to stand up for what she believes is right. She isn't a fighter but she is willing to put herself in danger in order to help the people that she cares about. Li Wei made my heart melt a little bit. He is so in love with Fei and he shows that through his actions. He follows her lead and is willing to make sacrifices to help her even when he questions their ability to succeed. He proves himself to be a genuinely good man.
The story itself was terrific. The way that the layers were pulled back to tell the story bit by bit really made this a book that was hard to put down. The pacing of the story was excellent. The build up to the various discoveries was well done. I can't think of a moment during the book that I was bored. I felt like I was on the journey with Fei and Li Wei and I wanted to know what the truth was right along with them.
I had expected the book to be more firmly planted in Chinese culture. If you changed the characters' names, I feel like this book could have been set in any location. I didn't feel at all disappointed by this but it wasn't what I had expected. I did really enjoy all of the descriptions of hearing for the first time. This is such a difficult thing to put into words but I think that the author did it perfectly.
I would highly recommend this book to others. I think that this story will appeal to a wide audience. This is the first book by Richelle Mead that I have read but I look forward to reading more from her in the future.
I received an advance reader edition of this book from Penguin Group - Razorbill via Penguin First to Read for the purpose of providing an honest review.
About the Author

Malcolm Smith Photography


RICHELLE MEAD is the #1 New York Times, USA Today, and Wall Street Journal bestselling author of the Vampire Academy series and its spin-off series, Bloodlines. Originally from Michigan, she now lives in Seattle, Washington.