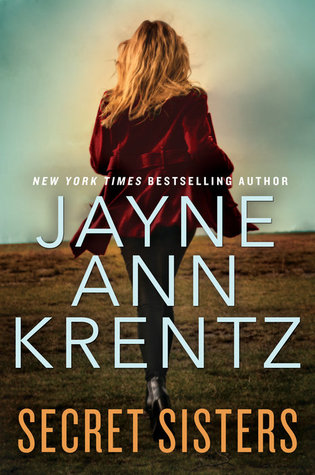 Secret Sisters by Jayne Ann Krentz
Penguin Group - Berkley
Publication Date: December 8, 2015
Date Read: October 30, 2015
No one does romantic suspense better than Jayne Ann Krentz. Now, the New York Times bestselling author of Trust No One and River Road delivers a novel that twists and turns into a read that will leave you breathless.

Madeline and Daphne were once as close as sisters—until a secret tore them apart. Now it might take them to their graves.

They knew his name, the man who tried to brutally attack twelve-year-old Madeline in her grandmother's hotel. They thought they knew his fate. He wouldn't be bothering them anymore...ever. Still their lives would never be the same.

Madeline has returned to Washington after her grandmother's mysterious death. And at the old, abandoned hotel—a place she never wanted to see again—a dying man's last words convey a warning: the secrets she and Daphne believed buried forever have been discovered.

Now, after almost two decades, Madeline and Daphne will be reunited in friendship and in fear. Unable to trust the local police, Madeline summons Jack Rayner, the hotel chain's new security expert. Despite the secrets and mysteries that surround him, Jack is the only one she trusts...and wants.

Jack is no good at relationships but he does possess a specific skill set that includes a profoundly intimate understanding of warped and dangerous minds. With the assistance of Jack's brother, Abe, a high-tech magician, the four of them will form an uneasy alliance against a killer who will stop at nothing to hide the truth....
Amazon
|
Barnes & Noble
|
Kobo
|
BAM!
This book was good. Really good, actually. When I saw that I had a chance to get my hands on an advanced copy of this book, I snatched it up quickly before anyone could change their mind. As a long time reader of romantic suspense, I somehow have missed Jayne Ann Krentz and all of her pen names. She has always been somewhere in my TBR pile but I just never actually sat down and read one of her books. This was the perfect opportunity to try one of her books and I am completely impressed. I am not sure if all of her books are as good as this one but I think I may have made a huge mistake by skipping this author's work as long as I have.
This book grabbed me right from the first page and I didn't really put it down unless I absolutely had to until I reached the end. That feeling of getting lost inside a story is exactly what I look for in a book. I love it when I can't get a story out of my mind and I keep going back to it because I have to know what happens next. The attack on the young girls at the opening of the story really opened everything with a bang and set the pace for the whole book.
Madeline's grandmother has recently passed away. Madeline is now in charge of her grandmother's chain of hotels. When she is summoned by the caretaker of an abandoned hotel, she goes to meet him and learns that there may be some danger on the island. Jack, the hotel's security expert, comes to assist her with the situation right away. They quickly find Daphne who was a witness to the attack on Madeline when they girls. The group soon learns that the events in the present may be linked to the things that happened at the hotel many years ago. Madeline, Jack, Daphne, and Abe all work together to solve the mystery that is tied to the past, the abandoned hotel, and the island.
This is one of those stories where the romance and the suspense compliment each other perfectly. There was never a moment in the book where I felt like the romance had taken over. The feelings between the characters grew as they worked together to solve the mystery. They learned to work together and trust each other which naturally built the foundation to a relationship. This book was actually able to balance an incredibly detailed mystery and two romantic relationships much better than I have seen in a long time.
The pacing of the story was well done. There was a perfect amount of action to keep things really interesting. I was completely surprised by some of the twists and turns. The characters were very easy to like. I ended up really liking all of the main characters. I also really disliked some of the people in the story and applaud the author for creating characters that were so fun to dislike.
I would highly recommend this book to fans of romantic suspense. The writing in the story is fantastic and plot is fast moving. This is the first book by Jayne Ann Krentz that I have read but I plan to pick up some of her other works very soon.
I received an advance reader edition of this book from Penguin Group - Berkley via Penguin First to Read for the purpose of providing an honest review.
About the Author

Photo credit Marc Von Borstel




The author of a string of New York Times bestsellers, JAYNE ANN KRENTZ uses three different pen names for each of her three "worlds". As JAYNE ANN KRENTZ (her married name) she writes contemporary romantic-suspense. She uses AMANDA QUICK for her novels of historical romantic-suspense. JAYNE CASTLE (her birth name) is reserved these days for her stories of futuristic/paranormal romantic-suspense.

"I am often asked why I use a variety of pen names," she says. "The answer is that this way readers always know which of my three worlds they will be entering when they pick up one of my books."

In addition to her fiction writing, she is the editor of, and a contributor to, a non-fiction essay collection, DANGEROUS MEN AND ADVENTUROUS WOMEN: ROMANCE WRITERS ON THE APPEAL OF THE ROMANCE published by the University of Pennsylvania Press. Her commitment to her chosen genre has been strong from the very beginning of her career. Each year at the annual convention of the Romance Writers of America she participates in a special day-long workshop for librarians and speaks on the importance of the romance genre.

"The romance genre is the only genre where readers are guaranteed novels that place the heroine at the heart of the story," Jayne says. "These are books that celebrate women's heroic virtues and values: courage, honor, determination and a belief in the healing power of love."

She earned a B.A. in History from the University of California at Santa Cruz and went on to obtain a Masters degree in Library Science from San Jose State University in California. Before she began writing full time she worked as a librarian in both academic and corporate libraries.

She is married and lives with her husband, Frank, in Seattle, Washington.