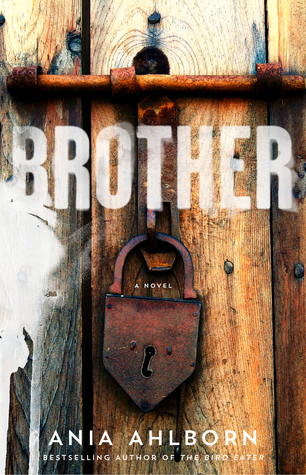 Brother by Ania Ahlborn
Simon & Schuster - Gallery Books
Publication Date: September 29, 2015
Date Read: October 20, 2015
From the bestselling horror author of Within These Walls and The Bird Eater comes a brand-new novel of terror that follows a teenager determined to break from his family's unconventional—and deeply disturbing—traditions.

Deep in the heart of Appalachia stands a crooked farmhouse miles from any road. The Morrows keep to themselves, and it's served them well so far. When girls go missing off the side of the highway, the cops don't knock on their door. Which is a good thing, seeing as to what's buried in the Morrows' backyard.

But nineteen-year-old Michael Morrow isn't like the rest of his family. He doesn't take pleasure in the screams that echo through the trees. Michael pines for normalcy, and he's sure that someday he'll see the world beyond West Virginia. When he meets Alice, a pretty girl working at a record shop in the small nearby town of Dahlia, he's immediately smitten. For a moment, he nearly forgets about the monster he's become. But his brother, Rebel, is all too eager to remind Michael of his place…
Amazon
|
Barnes & Noble
|
Kobo
|
BAM!
I thought that this book was absolutely fantastic! I have not been so mesmerized by a book in a long time. This book was incredibly bloody, incredibly twisted, and just absolutely awesome. I realize that I almost missed out on this book. I didn't even take a second look at this title when it was on NetGalley. When I noticed a couple of great reviews on Goodreads, I put my name on the list at the local library because I am always ready for a great book. If I had only known how good this one was going to be, I doubt that I would have waited nearly as patiently.
This is the story of Micheal and his family, the Morrows. This family is not your average family. Not at all. This family is a group of twisted sick people. The kind of people that you hope to never cross paths with during your lifetime. They live in a secluded house where it is easier to hide some of their hobbies from the general population.
Micheal seems like a rather nice guy....all things considered. Micheal spends the majority of his time with his brother, Reb. I really can't think of anything nice to say about Reb. He really has no redeeming qualities that I can think of. His sister, Misty, is really just trying to get through each day. Wade, the father, is quiet and really seems to be taking orders most of the time. Momma is unpredictable and frightening.
This book grabbed me on the first page...literally page 1! I found this story very hard to put down. There was a section where I wanted it to be just a little bloodier but I kept turning the pages and my wishes were granted. I was enjoying this nice bloody story when things took an unexpected twist. This story actually took several turns that I did not see coming. The way that the story ended was mind boggling.
I would highly recommend this book to anyone who enjoys horror. There is a lot of blood and violence in this one so it may not be the perfect book for everyone but I found it to be a much welcome surprise. This is the first book by Ania Ahlborn that I have read but I have already purchased a couple of additional titles that I hope to read soon.
About the Author