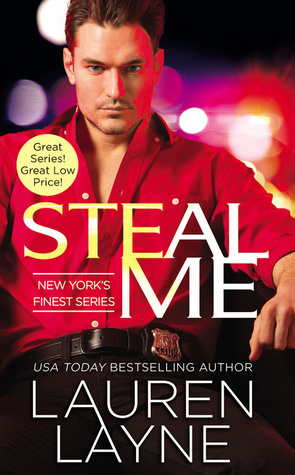 Steal Me by Lauren Layne
Series: New York's Finest #2
Forever - Grand Central Publishing
Publication Date: November 24, 2015
Date Read: November 26, 2015
Being a cop might be in Anthony Moretti's blood, but protecting and serving the city of New York has always been more than just the family business. If that means his love life stays locked up, well then that's just another sacrifice made in the line of duty. That is, until he sets eyes on the gorgeous new waitress at The Darby Diner and suddenly Anthony's morning coffee is leaving him a whole lot more hot and bothered than usual.

Though waitressing at The Darby isn't exactly Maggie Walker's dream job, it pays the bills and gives her time to work on her novel. Now if only she could stop fantasizing about gorgeous Anthony Moretti every time he sits down at her table, she'd really be in great shape. But when he needs her help identifying a criminal threatening The Darby-and Maggie recognizes her ex-husband-she fears her fresh start might be a pipe dream. Faster than a New York minute, Maggie and Anthony find themselves in one perilous pursuit that only gets hotter with each and every rule-breaking kiss.
Amazon
|
Barnes & Noble
|
Kobo
|
BAM!
|
iTunes
|
GooglePlay
I really enjoyed this one. The first book in this series,
Frisk Me
, was good but this one was even better in my opinion. This book was really the perfect combination of romance and suspense. Once I really had a chance to sit down and read, I didn't want to put this one down. I am falling in love with the Moretti men along with the heroines in these books. I kind of wish that this fictional family could adopt me because they are just a lot of fun.
It is the Anthony's turn to take the lead role in
Steal Me
. Anthony is the oldest sibling in the family and the highest ranking family member in the NYPD with his position of Captain. He is also the only member of the family who tends to get things spilled or dropped on him by the waitress during every Sunday brunch. This serious man that is completely career focused doesn't have a lot of patience for their clumsy waitress.
Maggie is the waitress that inevitably spills items on Anthony every week. Who can really blame her? He would make just about anyone nervous with his scowl and take charge mentality. And don't forget to call him Captain or you might see a bit of attitude. Maggie is working on writing a book when she isn't waiting tables. In her tiny apartment, she has made a life that she is enjoying along with her dog, Duchess. When she has important information regarding a case that Anthony is working on, they start spending a lot more time with each other. They find out that they both have a lot to learn about each other as they work together to catch a thief and keep Maggie safe.
I liked Anthony and Maggie a lot. I really can't say that related to these characters personally but I could see where they were coming from. Anthony has a really hard time finding a healthy balance between his personal life and family and he tends to try to fix everything. Maggie also wants to fix everything but she tries to do it by making everyone happy. They are both really good people. Neither one of these characters made any demands on really anyone and instead take responsibility for more than they should. I think that Anthony and Maggie fit really well together and I loved them as a couple. Their personalities just complimented each other perfectly and the chemistry between the pair made a heart skip a few beats.
I also really like the suspenseful parts of the book. The case that Anthony works on during this story seems almost too strange to be true. The more that is revealed about the suspect the more realistic it sounds. Maggie's story really was interesting. I came to feel a lot of respect for her character after learning about everything that she had been through in her life. During some of the most suspenseful parts, I wanted to slap Anthony a little but I do think that his behavior clearly illustrated his internal struggle. The pacing of the book was well done and the romance and suspense had a nice balance with both moving the story forward.
I just loved the writing. The secondary characters also added a lot to this book. Who doesn't want a grandmother like Nonna? I would take her as a roommate any day. The same group of characters that we met in the first book play important roles in this one as well. This book could be read as a stand alone but I think it would be best to read them in order. Who would want to skip the first book anyway? It's a good book....trust me, you'll want to read it.
I would highly recommend this book to fans of contemporary romantic suspense. Lauren Layne is consistently able to deliver smartly written stories that will melt your heart. I can't wait to get my hands on the next book in this wonderful series.
I received an advance reader edition of this book from Forever - Grand Central Publishing via NetGalley for the purpose of providing an honest review.
New York's Finest
Book #2: Steal Me
Book #3: Cuff Me - Coming March 29, 2016
About the Author


A long-time romance reader, Lauren Layne thinks the only thing better than reading about happy endings is writing them. She now pursues a full-time career in Happily Ever After, a job she's naturally suited for after marrying her high school sweetheart. A bit of a nomad, Lauren's lived everywhere from Orange County to Manhattan, and currently lives in the Seattle-area. Her hobbies include coffee by day, wine by night, and lots of writing in between. She's also a total website nerd and insists you check out laurenlayne.com!



a Rafflecopter giveaway