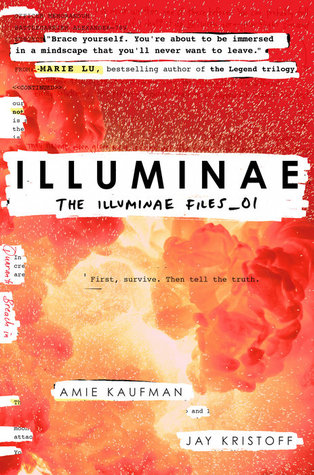 Illuminae by Amie Kaufman & Jay Kristoff
Series: The Illuminae Files #1
Random House Children's / Knopf Books for Young Readers
Publication Date: October 20, 2015
Date Read: September 23, 2015
This morning, Kady thought breaking up with Ezra was the hardest thing she'd have to do.

This afternoon, her planet was invaded.

The year is 2575, and two rival megacorporations are at war over a planet that's little more than an ice-covered speck at the edge of the universe. Too bad nobody thought to warn the people living on it. With enemy fire raining down on them, Kady and Ezra—who are barely even talking to each other—are forced to fight their way onto an evacuating fleet, with an enemy warship in hot pursuit.

But their problems are just getting started. A deadly plague has broken out and is mutating, with terrifying results; the fleet's AI, which should be protecting them, may actually be their enemy; and nobody in charge will say what's really going on. As Kady hacks into a tangled web of data to find the truth, it's clear only one person can help her bring it all to light: the ex-boyfriend she swore she'd never speak to again.

Told through a fascinating dossier of hacked documents—including emails, schematics, military files, IMs, medical reports, interviews, and more—Illuminae is the first book in a heart-stopping, high-octane trilogy about lives interrupted, the price of truth, and the courage of everyday heroes.
Amazon
|
Barnes & Noble
|
Kobo
|
BAM!
I have to say that this book gets more than a few points just for being different. Don't expect to pick this book and read a story told in a common way because the way this story is told is anything but common. This story is told through the use of reports, interviews, emails, and all kinds of media. It took me a few pages to really get a feel for the story being told by all the documents but in the end I was hooked.
I wasn't sure if the non-traditional method of storytelling would appeal to me and I must say that I don't think that all readers will appreciate how the story comes together. I decided early on to just keep reading and give the book a fair chance. I quickly started to like the two main characters: Kady and Ezra. They have just broken up when all hell breaks loose on their planet and they find themselves in the middle of danger.
The story is actually pretty involved with a lot of things going on. Kady and Ezra end up on different ships so their stories are a little different and fill in the missing pieces of the overall picture. Once I really got involved in the plot, I found that I had a hard time stepping away from this book. I just had to know how everything would work out and there were a few surprises along the way.
There were a few plot twists that felt a little over the top. I appreciate the fact that these twists were unexpected but I think that they did cross into an area of unbelievably. I read a review copy of the book but I would love to get my hands on a formatted paper copy complete with all of the photos. I do think that this book will be best enjoyed with all of the proper formatting found in a print copy.
I would recommend this book to others who enjoy an exciting story told in a unique manner. It really was a wonderful story and I am still amazed at the range of emotions that come across through the use of documents and personal messages. This is the first book by Amie Kaufman and Jay Kristoff that I have had a chance to read and I look forward to the next book in the series.
I received an advance reader edition of this book from Random House Children's / Knopf Books for Young Readers
via NetGalley for the purpose of providing an honest review.
About the Authors




Amie Kaufman


Amie Kaufman is a New York Times bestselling author of young adult fiction. Her work has been published in fifteen countries, won the Aurealis Award for Best YA Novel, been named the Huffington Post's best YA novel of the year, shortlisted for the Gold Inky Award and is in development for TV. Her first series, co-authored with Meagan Spooner, began with These Broken Stars, and her new series, co-authored with Jay Kristoff, will start this October with Illuminae.

Raised in Australia and Ireland, Amie has degrees in history, literature, law and conflict resolution. She lives in Melbourne with her husband, their rescue dog, and an extremely large personal library.







Jay Kristoff