October 6, 2015

It's Tuesday! That means it is time to make a little bit of room on the bookshelves, load up your ereader, or make your way to your local library. In other words - It is time to get your hands on a new book!
Here are just a few books that have just been released that you may want to grab soon: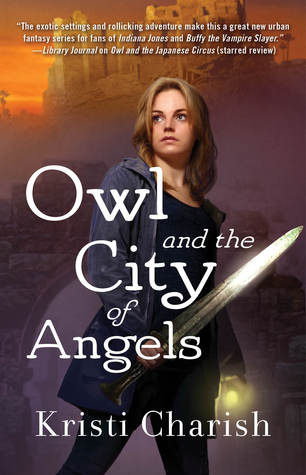 Owl and the City of Angels by Kristi Charish
Amazon | Barnes & Noble | Kobo | BAM!

The wild second adventure for unforgettable antiquities thief Owl—a modern-day "Indiana Jane" who reluctantly navigates the hidden supernatural world—from the pen of rising urban fantasy star Kristi Charish. For fans of Kim Harrison, Jim Butcher, Jennifer Estep, Jenn Bennett, and the like.

Alix Hiboux, better known as Owl, international antiquities thief for hire, is settling into her new contract job for Vegas mogul Mr. Kurosawa, a red dragon with a penchant for ancient, supernatural artifacts. And now he has his sights set on some treasures of the mysterious Syrian City of the Dead that are sitting in a recluse's private collection.

There's just one wrinkle. To stop the resurrection of an undead army that could wreak havoc on Los Angeles, Owl must break into a heavily guarded archaeological sight in one of the most volatile regions in the world. A detour through Libya and a run-in with Somali pirates sends the clock ticking hastily toward total paranormal disaster.

Meanwhile, Alexander and the Paris vampires have stopped stalking Owl's apartment, but they have by no means forgotten their death grudge against her. To top everything off, Owl finds out the hard way that there is nothing heavenly about the City of Angels...
Amazon
|
Barnes & Noble
|
Kobo
Meet the men of Oxford magazine! In the first captivating spin-off of Lauren Layne's Sex, Love & Stiletto series, a not-so-friendly battle of the sexes turns into a scorching office romance.

Hotshot sports editor Cole Sharpe has been freelancing for Oxford for years, so when he hears about a staff position opening up, he figures he's got the inside track. Then his boss drops a bombshell: Cole has competition. Female competition, in the form of a fresh-faced tomboy who can hang with the dudes—and write circles around them, too. Cole usually likes his women flirty and curvy, but he takes a special interest in his skinny, sassy rival, if only to keep an eye on her. And soon, he can't take his eyes off her.

Penelope Pope knows all too well that she comes off as just one of the guys. Since she's learned that wanting more usually leads to disappointment, Penelope's resigned to sitting on the sidelines when it comes to love. So why does Cole make her want to get back in the game? The man is as arrogant as he is handsome. He probably sees her as nothing more than a barrier to his dream job. But when an unexpected kiss turns into a night of irresistible passion, Penelope has to figure out whether they're just fooling around—or starting something real.
Rainbow Rowell continues to break boundaries with Carry On, an epic fantasy following the triumphs and heartaches of Simon and Baz from her beloved bestseller Fangirl.
Simon Snow just wants to relax and savor his last year at the Watford School of Magicks, but no one will let him. His girlfriend broke up with him, his best friend is a pest, and his mentor keeps trying to hide him away in the mountains where maybe he'll be safe. Simon can't even enjoy the fact that his roommate and longtime nemesis is missing, because he can't stop worrying about the evil git. Plus there are ghosts. And vampires. And actual evil things trying to shut Simon down. When you're the most powerful magician the world has ever known, you never get to relax and savor anything.
Carry On is a ghost story, a love story, a mystery and a melodrama. It has just as much kissing and talking as you'd expect from a Rainbow Rowell story — but far, far more monsters.

Shadows of Self shows Mistborn's society evolving as technology and magic mix, the economy grows, democracy contends with corruption, and religion becomes a growing cultural force, with four faiths competing for converts.

This bustling, optimistic, but still shaky society now faces its first instance of terrorism, crimes intended to stir up labor strife and religious conflict. Wax and Wayne, assisted by the lovely, brilliant Marasi, must unravel the conspiracy before civil strife stops Scadrial's progress in its tracks.

Shadows of Self will give fans of The Alloy of Law everything they've been hoping for and, this being a Brandon Sanderson book, more, much more.
---