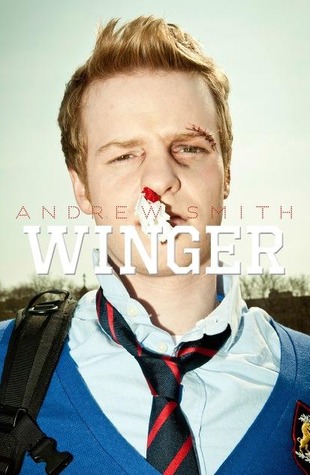 Winger by Andrew Smith
Series: Winger #1
Simon & Schuster Books for Young Readers
Publication Date: May 14, 2013
Date Read: September 6, 2015
Ryan Dean West is a fourteen-year-old junior at a boarding school for rich kids in the Pacific Northwest. He's living in Opportunity Hall, the dorm for troublemakers, and rooming with the biggest bully on the rugby team. And he's madly in love with his best friend Annie, who thinks of him as a little boy.

With the help of his sense of humor, rugby buddies, and his penchant for doodling comics, Ryan Dean manages to survive life's complications and even find some happiness along the way. But when the unthinkable happens, he has to figure out how to hold on to what's important, even when it feels like everything has fallen apart.

Filled with hand-drawn info-graphics and illustrations and told in a pitch-perfect voice, this realistic depiction of a teen's experience strikes an exceptional balance of hilarious and heartbreaking.
Amazon
|
Barnes & Noble
|
Kobo
|
BAM!
Why did I wait so long to read this book?!?! I could kick myself for putting this one off for so long. This book has to be one of the best YA novels that I have ever read. It is really that good. I read this book cover to cover in a single day and I can't think of a better way to spend a free day. Of course, I really didn't have much of a choice because once I started reading this story, I simply could not put it down.
Ryan Dean West is in many ways an average 14 year old boy. He feels like a loser quite often and he cannot keep his mind off of girls. One thing that sets Ryan Dean apart from the other students at his boarding school is that he is a junior despite the fact that he is only 14. Ryan Dean doesn't let anything stop him. He plays left wing for the school's rugby team, which is where he received the nickname "Winger."
Ryan Dean is living in the O-Hall this year because he got into a little bit of trouble the previous year. Opportunity Hall is the residence for trouble makers and Ryan Dean finds himself mixed in with a group of boys who aren't all exactly welcoming. He does make some new friends, finds himself in a few conflicts, and learns to deal with girls during the course of the story.
I loved the way this story was told. I absolutely love it when a story can incorporate humor without losing its focus. This book had a thread of humor on nearly every page and none of it felt forced. I never laughed out loud but I was amused for the majority of the story. I really like the fact that the story was not told simply through a narrative. The artwork that was used to help tell the story really worked well and helped bring Ryan Dean to life. I also really liked the way that his thoughts were shown in the story through plays and other creative methods.
This was one of those story that really grew on me. At first, Ryan Dean did seem like an awkward boy who was a little clueless. The more I read the more I grew to like Ryan Dean. He really was a good guy who sometimes lacked direction. I also grew to like his friends. This book really helped me to remember how difficult being a teenager can be. The ending of this book blew me away. I never saw it coming and I am so glad that nobody spoiled it for me.
I would highly recommend this book. It was funny and touching in a way that is rarely found in a single story. This is the first book by Andrew Smith that I have read but I am definitely planning to check out his other books soon.
About the Author


Andrew Smith is the award-winning author of several Young Adult novels, including the critically acclaimed

Grasshopper Jungle

(2015 Michael L. Printz Honor, 2014 Boston Globe-Horn Book Award, Carnegie Medal Longlist) and

Winger

. He is a native-born Californian who spent most of his formative years traveling the world. His university studies focused on Political Science, Journalism, and Literature. He has published numerous short stories and articles.

The Alex Crow

, a starred novel by

Kirkus

,

Publishers

Weekly

, and

Booklist

, is his ninth novel. He lives in Southern California.