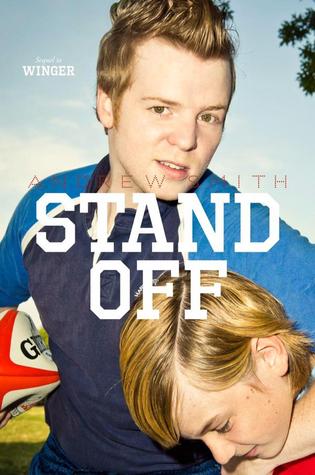 Stand Off by Andrew Smith
Series: Winger #
2
Simon & Schuster Books for Young Readers
Publication Date: September 8, 2015
Date Read: September , 2015
It's his last year at Pine Mountain, and Ryan Dean should be focused on his future, but instead, he's haunted by his past. His rugby coach expects him to fill the roles once played by his lost friend, Joey, as the rugby team's stand-off and new captain. And somehow he's stuck rooming with twelve-year-old freshman Sam Abernathy, a cooking whiz with extreme claustrophobia and a serious crush on Annie Altman—aka Ryan Dean's girlfriend, for now, anyway.

Equally distressing, Ryan Dean's doodles and drawings don't offer the relief they used to. He's convinced N.A.T.E. (the Next Accidental Terrible Experience) is lurking around every corner—and then he runs into Joey's younger brother Nico, who makes Ryan Dean feel paranoid that he's avoiding him. Will Ryan Dean ever regain his sanity?

From the author of the National Book Award–nominated 100 Sideways Miles, which Kirkus Reviews called "a wickedly witty and offbeat novel," Stand-Off is filled with hand-drawn infographics and illustrations and delivers the same spot-on teen voice and relatable narrative that legions of readers connected with in Winger.
Amazon
|
Barnes & Noble
|
Kobo
|
BAM!
I love Ryan Dean West. I would have never guess that I would enjoy reading a book about a 15 year old boy as much as I did. This book had the same kind of humor mixed in with heartfelt moments that were found in the previous book. I have to say that I think I enjoyed
Winger
a bit more than this book but I still felt like this was a solid story. I do think that you will need to read
Winger
prior to this book to really understand the impact of the things that are happening.
This story picks up at the beginning of Ryan Dean's senior year. He is now 15 and a lot of things are different at school this year. A lot of his friends have graduated and don't play a part of this story. Ryan Dean is shocked to find himself with a freshman roommate in a tiny little room. Not just any freshman, a 12 year old freshman. Ryan Dean is anything but impressed especially when his roommate, Sam Abernathy, demonstrates a few of his rather quirky behaviors. The rugby team has to make a few changes this year as well. A large portion of the team graduated so there are lot of spots to fill.
I wasn't sure that
Winger
needed a follow up book. It was such a moving book that stands alone on its own. I still think that you can read that book and never pick this one up and be completely satisfied with the story. I did really like seeing how the events of the first book impacted the lives of the characters in the future. I think that is one of the real strengths of this book. These characters are not as okay as they would want you to believe and I really liked the way that they watched out for each other and helped each other through everything. I don't think that this book would work well as a stand alone novel.
I liked watching Ryan Dean grow in this book. He has been through a lot and doesn't always make the right choices. One thing that I love about Ryan Dean is that when he realizes that he was wrong about something, he is not afraid to admit it and apologize. When his friends give him some advice, he takes it and tries to heal.
This book had a lot of funny moments. I didn't find any laugh out loud moments but I did have a grin on my face for large portions of the story. I liked the artwork even though there wasn't as much of it as in the first book. (I read an ARC copy so it is possible that the final copy has more artwork than the version that I read.) This story didn't have any really shocking moments but it was overall a worthwhile read.
I would recommend this book to fans of YA who enjoyed the first book in the series,
Winger.
This is the second book by Andrew Smith that I have read and I am planning on reading some of his other works very soon.
I received an advance reader edition of this book from Simon & Schuster Books for Young Readers via Edelweiss for the purpose of providing an honest review.
Book #2 - Stand Off
About the Author


Andrew Smith is the award-winning author of several Young Adult novels, including the critically acclaimed

Grasshopper Jungle

(2015 Michael L. Printz Honor, 2014 Boston Globe-Horn Book Award, Carnegie Medal Longlist) and

Winger

. He is a native-born Californian who spent most of his formative years traveling the world. His university studies focused on Political Science, Journalism, and Literature. He has published numerous short stories and articles.

The Alex Crow

, a starred novel by

Kirkus

,

Publishers

Weekly

, and

Booklist

, is his ninth novel. He lives in Southern California.