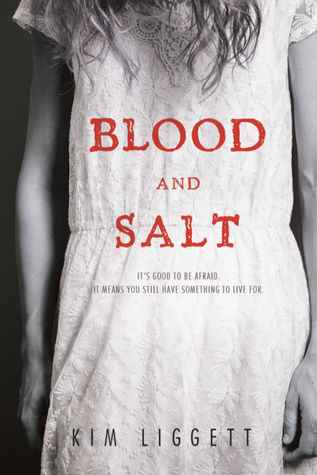 Blood and Salt by Kim Liggett
Series: Blood and Salt #1
Penguin Group - G.P. Putnam's Sons Books for Young Readers
Publication Date: September 22, 2015
Date Read: September 9, 2015
Romeo and Juliet meets Children of the Corn in this one-of-a-kind romantic horror.

"When you fall in love, you will carve out your heart and throw it into the deepest ocean. You will be all in—blood and salt."

These are the last words Ash Larkin hears before her mother returns to the spiritual commune she escaped long ago. But when Ash follows her to Quivira, Kansas, something sinister and ancient waits among the rustling cornstalks of this village lost to time.

Ash is plagued by memories of her ancestor, Katia, which harken back to the town's history of unrequited love and murder, alchemy and immortality. Charming traditions soon give way to a string of gruesome deaths, and Ash feels drawn to Dane, a forbidden boy with secrets of his own.

As the community prepares for a ceremony five hundred years in the making, Ash must fight not only to save her mother, but herself—and discover the truth about Quivira before it's too late. Before she's all in—blood and salt.
Amazon
|
Barnes & Noble
|
Kobo
|
BAM!
I had really high hopes for this book. Romantic horror just sounds completely fantastic. I like a good romance novel every once in a while but mix that up with some horror and I just knew that I would fall in love with this book. The description even mentions
Children of the Corn
...so it has to be scary right?!?! I haven't actually seen
Children of the Corn
but I know it has to be scary because my parents wouldn't let me watch it back when I was a kid (I am still a little upset about this). I was prepared to be frightened.
I was rather disappointed by the time I finished this book. This book wasn't the least bit scary for me. I also found it to be just another entry into the overcrowded genre of Young Adult Paranormal Romance. I was really looking forward to something completely unique but found that this wasn't really all that different at all. There paranormal elements weren't your average sparkly vampire or teenage werewolf but the visions that the main characters has didn't seem very original either.
The opening scene really grabbed me. How could it not? Dead girls and dripping blood always seems to grab my attention...and I was hoping for a lot of blood in this one. I was ready for things to get really scary after that first scene but that was about as scary as it got. The book really kind of lost me when it became more of a romance than anything else. It wasn't even a very good romance. There was a serious case of insta-love without a lot of chemistry between the characters in this one. I was really hoping for more blood to be perfectly honest.
I quickly figured out that the comparisons to
Children of the Corn
were actually referencing the corn...not the horror. There is a lot of corn in this book. Magical corn. Most of the book happens in the middle of acres and acres of corn. I expected scary...and I got corn. Oh well.
I didn't actually hate this book. I liked it well enough for what it was but it did not live up to my expectations. I did find myself wondering how things would work out and felt compelled to finish the story. There were some interesting elements in the book but this was a book that never was hard for me to put down. There big twist was a bit of a surprise and the last section of the book was rather exciting. Unfortunately, things didn't wrap up quite as nicely as I had hoped they would and I really think that readers will need to read the second book to get the full story.
I am not going to recommend this book to others. I do think that other readers may enjoy this one a lot more than I did. I am not sure at this point if I will pick up the second book in the duology or not. I kind of want to know how everything works out but this book was so forgettable I probably won't care by the time it is released.
I received an advance reader edition of this book from Penguin First to Read
for the purpose of providing an honest review.
About the Author


At sixteen, Kim Liggett left her rural midwestern town for New York City to pursue a career in both music and acting. While attending the American Academy of Dramatic Arts, Kim sang backup for some of the biggest rock bands in the 80's.
After settling down to have a family, she became an entrepreneur, creating a children's art education program and a travel company specializing in tours for musicians.

She's married to jazz musician Ken Peplowski, has two grotesquely beautiful teens, and a very neurotic dog that drags her through Riverside Park everyday on the Upper West Side of Manhattan.