September 8, 2015

It's Tuesday! That means it is time to make a little bit of room on the bookshelves, load up your ereader, or make your way to your local library. In other words - It is time to get your hands on a new book!
Here are just a few books that have just been released that you may want to grab soon: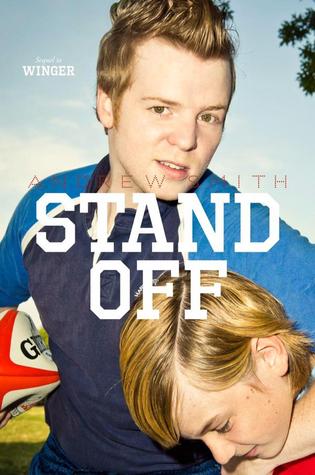 Stand Off by Andrew Smith
It's his last year at Pine Mountain, and Ryan Dean should be focused on his future, but instead, he's haunted by his past. His rugby coach expects him to fill the roles once played by his lost friend, Joey, as the rugby team's stand-off and new captain. And somehow he's stuck rooming with twelve-year-old freshman Sam Abernathy, a cooking whiz with extreme claustrophobia and a serious crush on Annie Altman—aka Ryan Dean's girlfriend, for now, anyway.

Equally distressing, Ryan Dean's doodles and drawings don't offer the relief they used to. He's convinced N.A.T.E. (the Next Accidental Terrible Experience) is lurking around every corner—and then he runs into Joey's younger brother Nico, who makes Ryan Dean feel paranoid that he's avoiding him. Will Ryan Dean ever regain his sanity?

From the author of the National Book Award–nominated 100 Sideways Miles, which Kirkus Reviews called "a wickedly witty and offbeat novel," Stand-Off is filled with hand-drawn infographics and illustrations and delivers the same spot-on teen voice and relatable narrative that legions of readers connected with in Winger.
The rugged men of the Carolina Cold Fury hockey team are winning hearts once again in another scorching novel from New York Times bestselling author Sawyer Bennett.

The stakes have never been higher for Carolina Cold Fury goalie Ryker Evans. With his contract running out, he's got a year left to prove he's still at the top of his game. And since his wife left him, Ryker has been balancing life as a pro-hockey star and a single parent to two daughters. Management is waiting for him to screw up. The fans are ready to pounce. Everybody's taking dirty shots—except for the fiery redhead whose faith in Ryker gives him a fresh start.

As the league's only female general manager, Gray Brannon has learned not to mix business with pleasure. And yet even this tough, talented career woman can't help breaking her own rules as she gives Ryker everything she's got. She hopes their hot streak will last forever, but with Ryker's conniving ex plotting to reclaim her man, the pressure's on Gray to step up and save a tender new love before it's too late.
Dark times have fallen on remote Balrog County, and Mack Druneswald, a high school senior with a love of clandestine arson, is doing his best to deal. While his family is haunted by his mother's recent death, Mack spends his nights roaming the countryside, looking for something new to burn. When he encounters Katrina, a college girl with her own baggage, Mack sets out on a path of pyromania the likes of which sleepy Balrog County has never seen before.

A darkly comic tour-de-force, The Firebug of Balrog County is about legend, small towns, and the fire that binds.

"Why is this town called Mother's Rest?" That's all Reacher wants to know. But no one will tell him. It's a tiny place hidden in a thousand square miles of wheat fields, with a railroad stop, and sullen and watchful people, and a worried woman named Michelle Chang, who mistakes him for someone else: her missing partner in a private investigation she thinks must have started small and then turned lethal.

Reacher has no particular place to go, and all the time in the world to get there, and there's something about Chang . . . so he teams up with her and starts to ask around. He thinks: How bad can this thing be? But before long he's plunged into a desperate race through LA, Chicago, Phoenix, and San Francisco, and through the hidden parts of the internet, up against thugs and assassins every step of the way—right back to where he started, in Mother's Rest, where he must confront the worst nightmare he could imagine.

Walking away would have been easier. But as always, Reacher's rule is: If you want me to stop, you're going to have to make me.
---