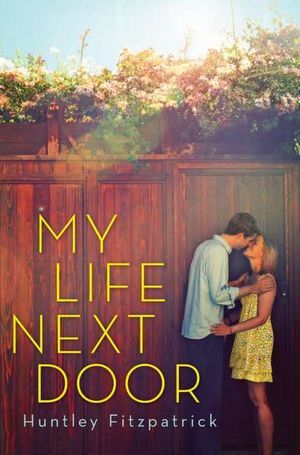 My Life Next Door by Huntley Fitzpatrick
Series: My Life Next Door #1
Dial Books for Young Readers
Publication Date: June 14, 2012
Date Read: July 28, 2015
"One thing my mother never knew, and would disapprove of most of all, was that I watched the Garretts. All the time."

The Garretts are everything the Reeds are not. Loud, messy, affectionate. And every day from her rooftop perch, Samantha Reed wishes she was one of them . . . until one summer evening, Jase Garrett climbs up next to her and changes everything.

As the two fall fiercely for each other, stumbling through the awkwardness and awesomeness of first love, Jase's family embraces Samantha - even as she keeps him a secret from her own. Then something unthinkable happens, and the bottom drops out of Samantha's world. She's suddenly faced with an impossible decision. Which perfect family will save her? Or is it time she saved herself?

A transporting debut about family, friendship, first romance, and how to be true to one person you love without betraying another.
Amazon
|
Barnes & Noble
|
Kobo
|
BAM!
I can't believe that I have waited nearly a month to review this book! For some reason, I just have not felt compelled to put my feelings about this book into words as of yet....maybe because I don't have a lot of feelings about this book. I expected it to be great. Everyone seems to love this book so I expected that I would love it just as much. I was very wrong. I didn't hate it but it was nothing special in my book. In fact, I would have most likely given the book a lower rating except I kind of enjoyed the last section of the story.

I make no secret of the fact that I am most certainly NOT a teenager. In fact, I am the mother of a teenager (not to mention my older child that has already passed up her teenage years). Let's just say that I am kind of old. This is a book for teenagers. I read a lot of books for teenagers and love talking about them with my daughter but sometimes I just cannot relate. This is one of those times.

The basic story is about a perfect little teenager girl, Samantha, who lives with her kind of crazy politician mother. Her mom is running for re-election so it is really important that everything remain perfect down to the perfect lines in the carpet after vacuuming (Do people actually worry about this stuff??? I am doing good just to turn the thing on and suck up the dog hair all over the floor.) Samantha has always spent a lot of time watching the family next door.

Jase lives next door with his family, who happen to everything Samantha's family is not. They are loud, loving, and exciting and there are a lot of them. Jase is one of 8 kids in his family. Jase's family kind of took over the story at points. When Jase and Samantha start hanging out, they end up spending most of their time together at Jase's house. Eventually Samantha is pulled in enough to become a regular babysitter for the family.

My daughter thought Jase was dreamy. I can't say that I share her opinion. Of course, old ladies are not supposed to think that teenage boys are dreamy. That is a rule. I actually found most of the book to be boring. Since I wasn't spending my time drooling over Jase, I wanted something to happen in the story. Nothing did for most of the book. I had to wait until the last 25% of the book for anything interesting to happen. Not cool.

This book wasn't horrible. I didn't hate it and I thought it had some good points. I liked Tim a lot. He was interesting but that was because he was intoxicated for a large portion of the book and spoke without a filter most of the time. Samantha and Jase were okay main characters. The last 25% of the book were rather exciting. The book was easy to read and I like the flow of the novel. This is the first book by Huntley Fitzpatrick that I have read and I plan to read other book in the future. I actually already have the next book in this series ready to go, but only because the main character is Tim. I like Tim a lot so I am hopeful that his book will work for me a little better.


About the Author