Half a War by Joe Abercrombie
Series: Shattered Sea #3
Random House - Del Ray
Publication Date: July 28, 2015
Date Read: July 30, 2015
Words are weapons

Princess Skara has seen all she loved made blood and ashes. She is left with only words. But the right words can be as deadly as any blade. She must conquer her fears and sharpen her wits to a lethal edge if she is to reclaim her birthright.

Only half a war is fought with swords

The deep-cunning Father Yarvi has walked a long road from crippled slave to king's minister. He has made allies of old foes and stitched together an uneasy peace. But now the ruthless Grandmother Wexen has raised the greatest army since the elves made war on God, and put Bright Yilling at its head – a man who worships no god but Death.

Sometimes one must fight evil with evil

Some – like Thorn Bathu and the sword-bearer Raith – are born to fight, perhaps to die. Others – like Brand the smith and Koll the wood-carver – would rather stand in the light. But when Mother War spreads her iron wings, she may cast the whole Shattered Sea into darkness.
Amazon
|
Barnes & Noble
|
Kobo
|
BAM!
I have loved this trilogy and I have to admit that I feel somewhat guilty about the fact that I didn't rate this final book in the trilogy as high as the two prior books. I base my rating strictly on my enjoyment of the story and I just didn't enjoy this book as much as the first two books. These books are the only books by Joe Abercrombie that I have read and I guess I had hoped for an ending that would feel satisfying and a little bit of happily ever after. This final book left me rather depressed and there was no happily ever after to be found.
The book focuses largely on Princess Skara. Princess Skara witnesses the murder of the king, her grandfather before she is whisked away to safety by Blue Jenner. She must now step in to rule the kingdom but first she must ensure its safety. I liked a lot of things about Skara. I liked the fact that she stepped up and proved to be a natural leader. She was able to pick people as her support that may be an unconventional choice but the right one for her. She was also able to win over the staff she was assigned so that they became loyal to her. Princess Skara proved to be a strong leader despite her age and lack of experience.
Even though I liked Princess Skara, I have to admit that I liked the central characters in the first two books more and I was thrilled to see all of the characters that I have grown to love come together in this book. Every character in this trilogy is so unique and colorful and the changes that have occurred with each one of them over the course of the trilogy has been astounding. Some of the characters I have liked more and more with each book while other characters have become harder to like. I really think that the strength of this trilogy is in the characters.
This book was just as exciting as the prior books in the trilogy. There were lots of fighting and action scenes and at times the story was rather bloody. There was also a lot of war planning and political maneuvering in this book. Princess Skara is in a delicate position to take over her kingdom since she is both young and female. She is forced to make decisions at times that will put herself and her kingdom in the best position.
I enjoyed quite a lot in this book. The section of the book where we finally get to see a little more of the elf city was very interesting. I really liked some of the characters that had an important role in this book. Raith was a fantastic character and I think that Koll and Rin grew a lot in this book. There were also some things that I didn't care for as much in this book. There was one character's death that I didn't see coming that really bothered me. The fact that the death happened outside of the story being told made it worse. If that character had to die, I would have at least liked to have it happen withing the focus of the story. I really wanted to the story to end in a hopeful manner but that wasn't the case. I was left feeling rather depressed when I realized how far some characters had been able to fall.
I would recommend this book to others. This is a trilogy that is really best to be read in order so I would recommend that readers new to the trilogy start with the first book in the series. I will be looking forward to future works by Joe Abercrombie and I am actually hoping that there may be other books set within this world at some point in the not so distant future.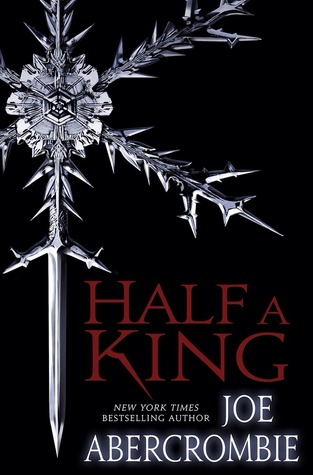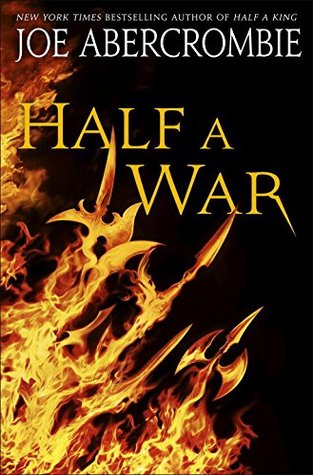 Book #3 - Half a War
About the Author

Phot by Lou Abercrombie