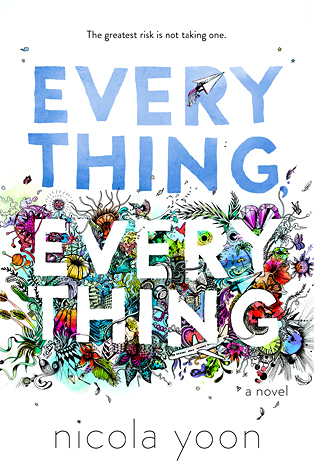 Everything, Everything by Nicola Yoon
Random House Children's - Delacorte Books for Young Readers
Publication Date: September 1, 2015
Date Read: August 9, 2015
This innovative, heartfelt debut novel tells the story of a girl who's literally allergic to the outside world. When a new family moves in next door, she begins a complicated romance that challenges everything she's ever known. The narrative unfolds via vignettes, diary entries, texts, charts, lists, illustrations, and more.


My disease is as rare as it is famous. Basically, I'm allergic to the world. I don't leave my house, have not left my house in seventeen years. The only people I ever see are my mom and my nurse, Carla.

But then one day, a moving truck arrives next door. I look out my window, and I see him. He's tall, lean and wearing all black—black T-shirt, black jeans, black sneakers, and a black knit cap that covers his hair completely. He catches me looking and stares at me. I stare right back. His name is Olly.

Maybe we can't predict the future, but we can predict some things. For example, I am certainly going to fall in love with Olly. It's almost certainly going to be a disaster.
Amazon
|
Barnes & Noble
|
Kobo
|
BAM!
I really enjoyed this book. I think that the use of various methods to tell the story really added to the appeal of the novel. This was a very quick book to read and I actually finished it up in just a couple of hours. I had expected a rather depressing story since the story is focused on a girl who can never leave the house but I found it to be very hopeful instead.
This is Maddy's story. Maddy has SCID and is basically allergic to the outside world. Her entire life has been spent contained within the walls of her home. She is studies at home, spends a lot of time reading and online, and spends a lot of time with her nurse, Carla, and her mother. Maddy seems to have made the best of her isolated life and seems to really enjoy the traditions that she has created along with her mother.
Maddy is very aware of the outside world and notices right away when a new family moves in next door. Olly immediately captures her attention. He is the same age as Maddy and it becomes obvious right away that he has his own set of problems to deal with at home. They develop a friendship through messages and email, with an occasional game of characters through the window mixed in.
This is basically a love story. Maddy starts to question if her life isolated and alone is worth it and craves the attention of the boy next door. In a lot of ways the characters seemed younger than they are and I would expect that from Maddy since she has had so no interactions outside of her home. Olly seemed quite young as well and I would guess that a boy his age with his experiences would seem less naive.
I did guess the major twist to the story and I really wish that I had been wrong. I like it when twists take me completely by surprise because I think it can have a greater impact. I did really like how the story was written. The author did a fantastic job of using different elements to tell the story and they all worked together perfectly. I really think that teenagers will be able to relate to the storytelling style of this story. I do have to admit that I loved the importance of books to this story and loved that Maddy's reviews were included.
I would recommend this book to YA fans. I predict that this book is going to be a favorite for a lot of teenagers this year. I am actually amazed that this is the first book by this author. I can't wait to see what else Nicola Yoon comes up with in the future.
I received an advance reader edition of this book from Random House Children's - Delacorte Books for Young Readers via NetGalley
for the purpose of providing an honest review.
About the Author