August 4, 2015

It's Tuesday! That means it is time to make a little bit of room on the bookshelves, load up your ereader, or make your way to your local library. In other words - It is time to get your hands on a new book!
Here are just a few books that have just been released that you may want to grab soon:
In the latest Kate Daniels novel from #1 New York Times bestselling author Ilona Andrews, magic is coming and going in waves in post-Shift Atlanta—and each crest leaves danger in its wake…

After breaking from life with the Pack, mercenary Kate Daniels and her mate—former Beast Lord Curran Lennart—are adjusting to a very different pace. While they're thrilled to escape all the infighting, Curran misses the constant challenges of leading the shapeshifters.

So when the Pack offers him its stake in the Mercenary Guild, Curran seizes the opportunity—too bad the Guild wants nothing to do with him and Kate. Luckily, as a veteran merc, Kate can take over any of the Guild's unfinished jobs in order to bring in money and build their reputation. But what Kate and Curran don't realize is that the odd jobs they've been working are all connected.

An ancient enemy has arisen, and Kate and Curran are the only ones who can stop it—before it takes their city apart piece by piece…
---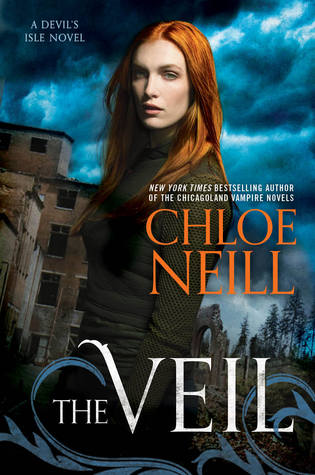 The Veil by Chloe Neill
Seven years ago, the Veil that separates humanity from what lies beyond was torn apart, and New Orleans was engulfed in a supernatural war. Now, those with paranormal powers have been confined in a walled community that humans call the District. Those who live there call it Devil's Isle.

Claire Connolly is a good girl with a dangerous secret: she's a Sensitive, a human endowed with magic that seeped through the Veil. Claire knows that revealing her skills would mean being confined to Devil's Isle. Unfortunately, hiding her power has left her untrained and unfocused.

Liam Quinn knows from experience that magic makes monsters of the weak, and he has no time for a Sensitive with no control of her own strength. But when he sees Claire using her powers to save a human under attack—in full view of the French Quarter—Liam decides to bring her to Devil's Isle and the teacher she needs, even though getting her out of his way isn't the same as keeping her out of his head.
But when the Veil threatens to shatter completely, Claire and Liam must work together to stop it, or else New Orleans will burn…
---
Trust No One by Paul Cleave

In the exciting new psychological thriller by the Edgar-nominated author of Joe Victim, a famous crime writer struggles to differentiate between his own reality and the frightening plot lines he's created for the page.

Jerry Grey is known to most of the world by his crime writing pseudonym, Henry Cutter-a name that has been keeping readers at the edge of their seats for more than a decade. Recently diagnosed with early onset Alzheimer's at the age of forty-nine, Jerry's crime writing days are coming to an end. His twelve books tell stories of brutal murders committed by bad men, of a world out of balance, of victims finding the darkest forms of justice. As his dementia begins to break down the wall between his life and the lives of the characters he has created, Jerry confesses his worst secret: The stories are real. He knows this because he committed the crimes. Those close to him, including the nurses at the care home where he now lives, insist that it is all in his head, that his memory is being toyed with and manipulated by his unfortunate disease. But if that were true, then why are so many bad things happening? Why are people dying?

Hailed by critics as a "masterful" (Publishers Weekly) writer who consistently offers "ferocious storytelling that makes you think and feel" (The Listener) and whose fiction evokes "Breaking Bad reworked by the Coen Brothers"(Kirkus Reviews), Paul Cleave takes us down a cleverly twisted path to determine the fine line between an author and his characters, between fact and fiction.
---
Lamp Black, Wolf Grey by Paula Brackston
In the latest from Paula Brackston, a young artist goes to the Welsh mountains in search of love, but is faced with ancient legends and a mysterious man from the past - Merlin himself.

Artist Laura Matthews finds her new home in the Welsh mountains to be a place so charged with tales and legends that she is able to reach through the gossamer-fine veil that separates her own world from that of myth and fable.

She and her husband Dan have given up their city life and moved to Blaencwm, an ancient longhouse high in the hills. Here she hopes that the wild beauty will inspire her to produce her best art and will give her the baby they have longed for. But this high valley is also home to others, such as Rhys the charismatic loner who pursues Laura with fervor. And Anwen, the wise old woman from the neighboring farm who seems to know so much but talks in riddles. And then there is Merlin.

Lamp Black, Wolf Grey tells both Laura's story and Merlin's. For once he too walked these hills, with his faithful grey wolf at his heel. It was here he fell in love with Megan, nurse-maid to the children of the hated local noble, Lord Geraint. Merlin was young, at the start of his renowned career as a magician, but when he refuses to help Lord Geraint it is Megan who may pay the price.

From New York Times bestselling author Paula Brackston, Lamp Black, Wolf Grey is an enchanting tale of love and magic featuring her signature blend of gorgeous writing, an intriguing historical backdrop, and a relatable heroine that readers are sure to fall in love with.