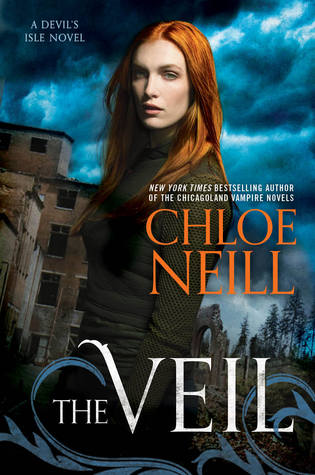 The Veil by Chloe Neill
Series: Devil's Isle #1
Penguin Publishing Group - NAL
Publication Date: August 4, 2015
Date Read: July 11, 2015
Seven years ago, the Veil that separates humanity from what lies beyond was torn apart, and New Orleans was engulfed in a supernatural war. Now, those with paranormal powers have been confined in a walled community that humans call the District. Those who live there call it Devil's Isle.

Claire Connolly is a good girl with a dangerous secret: she's a Sensitive, a human endowed with magic that seeped through the Veil. Claire knows that revealing her skills would mean being confined to Devil's Isle. Unfortunately, hiding her power has left her untrained and unfocused.

Liam Quinn knows from experience that magic makes monsters of the weak, and he has no time for a Sensitive with no control of her own strength. But when he sees Claire using her powers to save a human under attack—in full view of the French Quarter—Liam decides to bring her to Devil's Isle and the teacher she needs, even though getting her out of his way isn't the same as keeping her out of his head.

But when the Veil threatens to shatter completely, Claire and Liam must work together to stop it, or else New Orleans will burn…
Amazon
|
Barnes & Noble
|
Kobo
|
BAM!
This was a good start to a new series. I have only read one other book by Chloe Neill so I thought that this would be a great chance to jump into a new series just as it is beginning. The book was good but it lacked the something extra that makes a book great. Every time I start reading a book, I always hope that it will be one of those books that I can't get out of my mind and have a difficult time putting it down. This wasn't that kind of book. I liked this book but I didn't fall in love with it.

I liked the overall premise of this story. I found the world to unique and interesting. I think that this book may have fallen victim to the first book syndrome that often occurs with the start of a new Urban Fiction or Paranormal series. I did actually find that the second half of the book moved a lot faster for me after a lot of the background information for the world had been covered.

I like the fact that the main characters, Claire and Liam, are for the most part "normal." Okay, Claire is not completely normal but she was such a likable character. I really liked all of the characters in this story. Liam knows how to handle himself and I liked how he shared everything with Claire. Moses was great - I really hope that we get to see more of him in future installments in the series. Liam's family and Claire's friends all seemed to add to the story.

This book did a great job of laying the foundation for a really exciting series. The cast of characters are colorful and very likable. The story is set in New Orleans which is such a vibrant and exciting city which adds an interesting element. The world is a little different than other books that I have read but it includes so many elements that I found familiar. This book didn't really have a lot of romance but I really liked the sexual tension between Liam and Claire and hope to see that explored as the series progresses.

I would recommend this book to fans of Urban Fiction and paranormal stories. I really like Chloe Neill's style of writing and think that this is a solid start to a new series. I am really looking forward to continuing with this series.
I received an advance reader edition of this book from Penguin Publishing Group
via NetGalley for the purpose of providing an honest review.
About the Author




Photo by Dana Damewood







Author Links: