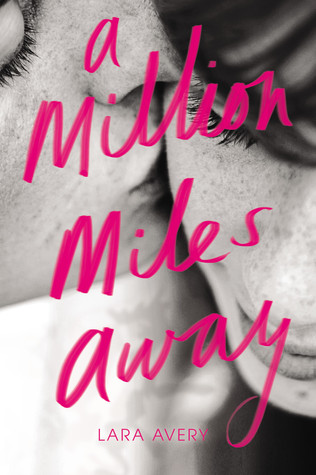 A Million Miles Away by Lara Avery
Little, Brown Books for Young Readers - Poppy
Publication Date: July 7, 2015
Date Read: July 6, 2015
When high school senior Kelsey's identical twin sister, Michelle, dies in a car crash, Kelsey is left without her other half. The only person who doesn't know about the tragedy is Michelle's boyfriend, Peter, recently deployed to Afghanistan. But when Kelsey finally connects with Peter online, she can't bear to tell him the truth. Active duty has taken its toll, and Peter, thinking that Kelsey is Michelle, says that seeing her is the one thing keeping him alive. Caught up in the moment, Kelsey has no choice: She lets Peter believe that she is her sister.

As Kelsey keeps up the act, she crosses the line from pretend to real. Soon, Kelsey can't deny that she's falling, hard, for the one boy she shouldn't want.

Lara Avery delivers a breathtaking story of love and loss that is guaranteed to break your heart and sweep you off your feet.
This has to be one of the most predictable books that I have ever read. When I read the blurb for a book, I usually make some kind of guess about where I think the story will eventually go. I like it when my guess is completely wrong because that means the book took a lot of unexpected twists and turns. I like twists and turns. I also like it when my guess is kind of right and the story ends how I thought it would but the way it happened was completely different than anything I could have imagined.
This book told the exact story that I had guessed it would. After finishing the book, I decided to a very small survey. I had my 14 year old daughter read the blurb and asked her how she thought the story would end and she nailed it. I then decided to really shake things up so I asked my husband the same thing. My husband NEVER picks up a book and is probably the exact opposite of the target audience and you know what...he knew how this book would end too. I need a little bit of unexpected to fully enjoy a story.
I didn't hate the book but I don't feel like I gained anything by reading it. I really didn't feel anything for any of the characters and found every single one of the be rather flat. There was never any kind of stand out moment in the book that hit me emotionally. This is the kind of book that I will most likely forget about before too long. Unfortunately, I would not recommend this book to other readers.
I received an advance reader edition of this book from Little, Brown Books for Young Readers - Poppy
via NetGalley for the purpose of providing an honest review.
About the Author


Lara Avery is an editor at Revolver and the author of Anything But Ordinary, which Booklist praised for its "tender and lyrical prose." Raised in Kansas, where A Million Miles Away is set, she now lives in Minneapolis, Minnesota.