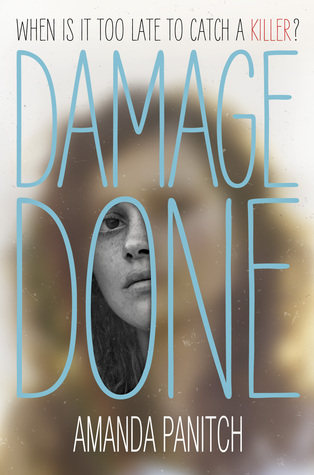 Damage Done by Amanda Panitch
Random House Books for Young Readers
Publication Date: July 21, 2015
Date Read: July 8, 2015
22 minutes separate Julia Vann's before and after.

Before: Julia had a twin brother, a boyfriend, and a best friend.

After: She has a new identity, a new hometown, and memories of those twenty-two minutes that refuse to come into focus. At least, that's what she tells the police.

Now that she's Lucy Black, she's able to begin again. She's even getting used to the empty bedroom where her brother should be. And her fresh start has attracted the attention of one of the hottest guys in school, a boy who will do anything to protect her. But when someone much more dangerous also takes notice, Lucy's forced to confront the dark secrets she thought were safely left behind.

One thing is clear: The damage done can never be erased. It's only just beginning. . . .
Amazon
|
Barnes & Noble
|
Kobo
|
BAM!
I am a little surprised by how much I ended up enjoying this book! I have to admit that I went into this book with rather low expectations so the fact that this turned out to be really good makes me very happy. The more I read of the story the more I was hooked. I had to leave for work with only 4 chapters of the book left to read and I found myself sneaking peeks all day until I finished. This is not my normal behavior but I just had to know how this book would end. I couldn't get this book out of my mind until I read the very last word. Very few books are that hard for me to put down and I appreciate the ones capture my attention like this one did.
I did guess some of the major twists in this book but I never felt confident that I had it figured out. I felt compelled to keep turning pages to see if my guess was right and sometimes it was. There was a whole lot in this story that I never expected to see and there was enough unpredictability to really keep things interesting. I think that the manner in which everything was revealed really kept the story suspenseful until the very end.
I found the characters to be really interesting. Lucy, also known as Julia, was probably one of the most interesting characters that I have read in quite some time. The story is told from her point of view and it is that storytelling that held my attention. Her friends, Michael and Alane, were the perfect support system for Lucy. I didn't really relate to any of the characters or find them to be very likeable but I also didn't dislike any of them. I think that all of the characters fit perfectly into this little story just as they are.
I thought that the pacing of this story was near perfect. The plot never hit a slow point. There was just enough information given as the story progressed to raise more questions. The more I learned the more I felt I needed to know. I really liked this author's writing style and found this to be a very easy to read book.
I would highly recommend this book to others. This is a YA novel but it is a little darker than usual book in this genre. It does deal with violence including a school shooting so it may not be the right book for some younger teen readers. This is Amanda Panitch's debut novel and I can't wait to see what else she comes up with in the future.
I received an advance reader edition of this book from Random House Books for Young Readers
via NetGalley for the purpose of providing an honest review.



About the Author