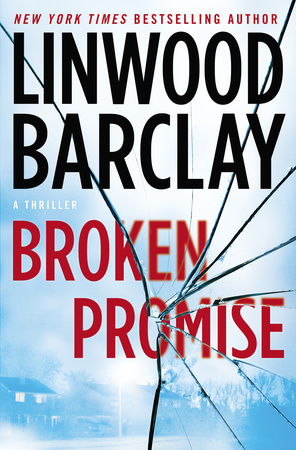 Broken Promise by Linwood Barclay
Series: Promise Falls #1
Penguin Group NAL
Publication Date: July 28, 2015
Date Read: July 26, 2015
From the New York Times bestselling author of No Safe House comes an explosive novel about the disturbing secrets of a quiet small town.…

After his wife's death and the collapse of his newspaper, David Harwood has no choice but to uproot his nine-year-old son and move back into his childhood home in Promise Falls, New York. David believes his life is in free fall, and he can't find a way to stop his descent.

Then he comes across a family secret of epic proportions. A year after a devastating miscarriage, David's cousin Marla has continued to struggle. But when David's mother asks him to check on her, he's horrified to discover that she's been secretly raising a child who is not her own—a baby she claims was a gift from an "angel" left on her porch.

When the baby's real mother is found murdered, David can't help wanting to piece together what happened—even if it means proving his own cousin's guilt. But as he uncovers each piece of evidence, David realizes that Marla's mysterious child is just the tip of the iceberg.

Other strange things are happening. Animals are found ritually slaughtered. An ominous abandoned Ferris wheel seems to stand as a warning that something dark has infected Promise Falls. And someone has decided that the entire town must pay for the sins of its past…in blood.
Amazon
|
Barnes & Noble
|
Kobo
|
BAM!
I liked this book. I have to admit that I was able to guess a few of the big twists but I found enough surprises along the way to keep my interest. This book is the first in a new series set in the small town of Promise Falls. I had no idea that this book was part of a series and had assumed it was a stand alone novel. I was kind of surprised to find that this story left a few loose ends that I am sure will be picked up in future installments.

This book is told from multiple point of view. David's point of view is the primary source of narration which accounts for about half of the story. The rest of the story is told from a variety of characters including Detective Duckworth, Agnes, David's father, and a man who has just lost his wife to name a few. I think that each character was very well done with a distinct voice and each point of view added to the overall story. It really took all of these characters to see what was truly happening.

The pacing of the story was fantastic and there were not any dull moments. There is quite a bit going on this novel. The main mystery deals with the murder of the mother of an infant son but there is more going on in this little town including incidents at the local amusement park, the local college, and even a case involving squirrels. Is everything connected and if so how?

I did guess some of the major twists which was a bit of a disappointment because I really like to be surprised. There were enough twists that I didn't predict to keep the story interesting for me. I do wish that all of my questions had been answered. As it stands, I feel like I only received answers to some of my questions. I wouldn't say that the ending was cliffhanger because the main focus of the story was resolved even though a lot of questions do remain.

I would recommend this book to fans of mystery thrillers. This is a fast paced novel with a lot of action and twists and turns to keep things interesting. I have read quite a few novels by Linwood Barclay and I think that this book lives up to what I have come to expect from this author. I can't wait to see what happens next in Promise Falls.
I received an advance reader edition of this book from Penguin Group NAL via NetGalley
for the purpose of providing an honest review.
About the Author

Photo credit: Bill Taylor


Linwood Barclay is a New York Times and #1 international bestselling author whose critically acclaimed novels have been optioned for film and TV.