July 21, 2015

It's Tuesday! That means it is time to make a little bit of room on the bookshelves, load up your ereader, or make your way to your local library. In other words - It is time to get your hands on a new book!
Here are just a few books that have just been released that you may want to grab soon: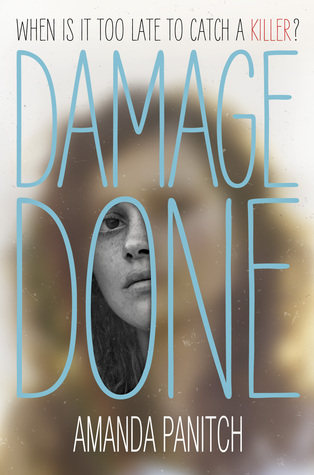 Damage Done by Amanda Panitch
22 minutes separate Julia Vann's before and after.

Before: Julia had a twin brother, a boyfriend, and a best friend.

After: She has a new identity, a new hometown, and memories of those twenty-two minutes that refuse to come into focus. At least, that's what she tells the police.

Now that she's Lucy Black, she's able to begin again. She's even getting used to the empty bedroom where her brother should be. And her fresh start has attracted the attention of one of the hottest guys in school, a boy who will do anything to protect her. But when someone much more dangerous also takes notice, Lucy's forced to confront the dark secrets she thought were safely left behind.

One thing is clear: The damage done can never be erased. It's only just beginning. . . .
Speaking in Bones by Kathy Reichs
The latest blockbuster suspense novel in the pulse-pounding Temperance Brennan series, from #1 New York Times bestselling author and forensic anthropologist Kathy Reichs.

For every case Temperence Brennance has solved, there remain innumerable unidentified bodies in her lab. Information on some of these is available online, where amateur sleuths sometimes take a stab at solving cases. One day, Tempe gets a call from Hazel "Lucky" Strike, a web sleuth who believes she's successfully connected a body in Tempe's lab to a missing persons report on an eighteen-year-old named Cora Teague. Since the bones in her lab do seem to match Cora's medical records, Tempe looks into the case, returning to the spot where the bones were originally found. What seems at first to be an isolated tragedy takes on a more sinister cast as Tempe uncovers two more sets of bones nearby. When she then learns that the area is known as a viewing point for a famous unexplained light phenomenon with significance for a local cult, Tempe's suspicious turn to murder by ritual sacrifice—a theory thrown into question when Hazel herself turns up dead. Still reeling from her mother's diagnosis and the shock of Andrew Ryan's potentially life-change proposal, Tempe races to solve the murders before the body count climbs further.
The Tournament by Matthew Reilly
From the New York Times bestselling author of Temple and The Great Zoo of China comes a gripping historical thriller featuring a young Queen Elizabeth I thrust into a web of treachery, power, and lust at the height of the Ottoman Empire.

The year is 1546, and Suleiman the Magnificent, the powerful and feared Sultan of the Ottoman Empire, issues an invitation to every king in Europe: You are invited to send your finest player to compete in a chess tournament to determine the champion of the known world.

Thousands converge on Constantinople, including the English court's champion and his guide, the esteemed scholar Roger Ascham. Seeing a chance to enlighten the mind of a student, Ascham brings along Elizabeth Tudor, a brilliant young woman not yet thrust into royal duties.

Yet on the opening night of the tournament a powerful guest of the Sultan is murdered. Soon, barbaric deaths, diplomatic treachery, and unimaginable depravity—sexual and otherwise—unfold before Elizabeth and Ascham's eyes. The pair soon realizes that the real chess game is being played within the court itself…and its most treacherous element is that a stranger in a strange land is only as safe as her host is gracious.
---
The Coincidence of Coconut Cake by Amy E. Reichert
You've Got Mail meets How to Eat a Cupcake in this delightful novel about a talented chef and the food critic who brings down her restaurant—whose chance meeting turns into a delectable romance of mistaken identities.

In downtown Milwaukee, Wisconsin, Lou works tirelessly to build her beloved yet struggling French restaurant, Luella's, into a success. She cheerfully balances her demanding business and even more demanding fiancé…until the morning she discovers him in the buff—with an intern.

Witty yet gruff British transplant Al is keeping himself employed and entertained by writing scathing reviews of local restaurants in the Milwaukee newspaper under a pseudonym. When an anonymous tip sends him to Luella's, little does he know he's arrived on the worst day of the chef's life. The review practically writes itself: underdone fish, scorched sauce, distracted service—he unleashes his worst.

The day that Al's mean-spirited review of Luella's runs, the two cross paths in a pub: Lou drowning her sorrows, and Al celebrating his latest publication. As they chat, Al playfully challenges Lou to show him the best of Milwaukee and she's game—but only if they never discuss work, which Al readily agrees to. As they explore the city's local delicacies and their mutual attraction, Lou's restaurant faces closure, while Al's column gains popularity. It's only a matter of time before the two fall in love…but when the truth comes out, can Lou overlook the past to chase her future?

Set in the lovely, quirky heart of Wisconsin, The Coincidence of Coconut Cake is a charming love story of misunderstandings, mistaken identity, and the power of food to bring two people together.
---