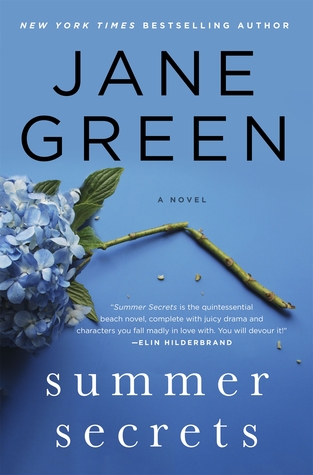 Summer Secrets by Jane Green
St. Martin's Press
Publication Date: June 23, 2015
Date Read: June 21, 2015
3 Stars
I have been a fan of Jane Green ever since I picked up a copy of Mr. Maybe at a book sale quite a few years ago. I don't remember a whole lot about that book but I do remember loving it enough that I pretty much forced my best friend to read it. She ended up liking it as much as I did. I think I even forced that book upon my sister before too much time passed. I will admit that I have not read all of her books and if I am being honest probably not even half of her current titles but I can see a change in how she has grown as a writer. The more recent works that I have read have felt a bit depressing and much more serious. I kind of miss the fun of Mr. Maybe.
This book deals with a very serious subject - alcoholism. There are sections of the book where Cat is having a grand time. I mean she is living it up with her friend vodka which is fun until it isn't fun anymore if you know what I mean. Much of this book rang very true to me. In my mid twenties, I worked in a bar. If you haven't worked in a bar let me tell you that it is a very eye opening experience. I saw people who came in every once in a while and drank responsibly and other people that had serious problems with their drinking. It can definitely have devastating effects on an individual's life and the lives of those who love them.
I am a little torn about what I think about this book. I really liked parts of the story and there really wasn't anything that I disliked but it felt like it was missing something. The story is told from different points in time and at least two different points of view and the overall book lacked a cohesive element that I had hoped to see. The book was very readable but it was never a story that was hard for me to put down. The story just never completely hooked me.
The story focuses on Cat when she is in her twenties drinking heavily and just on the cusp of realizing she has a problem. It also focuses on her in the present as a recovering alcoholic working on the steps in her program. We do learn about the years in between to a certain extent but I wanted more. I didn't feel connected to her or really anyone in the book. This book was really just a glimpse into Cat's life with only certain pieces shown to the audience. I had hoped for a feel good ending and it just wasn't there. At least the book had a happily ever maybe ending but oh how I would have appreciated an epilogue to let me know how things worked out.
I think that many will love this book. It deals with a difficult subject that a lot of people will be able to relate to today. This isn't my favorite book from the talented author but I would recommend it to others. I plan to continue reading Jane Green's work and it looks like I have some catching up to do.
I received an advance reader edition of this book from St. Martin's Press via NetGalley for the purpose of providing an honest review.