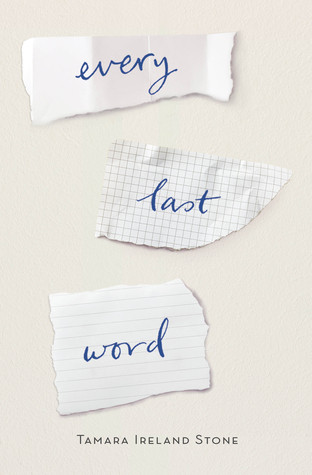 Every Last Word by Tamara Ireland Stone
Disney Book Group / Disney-Hyperion
Publication Date: June 16, 2015
Date Read: June 9, 2015
5 Stars!
I loved this book! To think that I came very close to making the decision to pass on this book, makes me question myself. This is probably the most well done teen book that I have picked up in a very long time and I read a lot of teen books. I have come to expect so many things when I start a Young Adult novel and this book threw every expectation out the window and broke all the rules. I am pretty sure that is one of the reasons that I loved it - this book is just so different than what I had expected.
This book focuses on mental illness and I applaud the author for taking on such a difficult topic. It amazes me that we are still at a point in our society where any kind of illness comes with a taboo but mental illness tends to be one of those things that nobody wants to talk about. But they probably should. If everyone talked about it, they would find out how common it really is.
I spent quite a few years working at an organization that provides support to individuals with developmental disabilities. A very large number of the people that we worked with were also diagnosed with some form of mental illness. I can honestly say that I have seen how mental illness can shape someone's life and how devastating the effects can be depending on the situation. I have seen members of my own family deal with these issues. It is tough. It is so important to talk about what is going on and to be completely honest with your doctors so that they can provide the best possible options.
This is Sam's story. Sam is a swimmer. She is a member of the Crazy Eights - a group of girl friends that have all been friends since they were little kids. Sam also has Obsessive-Compulsive Disorder, but she is dealing purely with obsessions. She sees a doctor weekly and must take medication to help her sleep in addition to depression and anxiety mediation. She is really quite skilled at hiding everything that she is dealing with from her group of friends but she really wants to find some true friends that she doesn't have to hide from.
When Sam meets Caroline, everything clicks into place right away. Caroline introduces Sam to the Poet's Corner where a group of students meet in secret and share their writing. The more time that she spends with the group for the Poet's Corner the more she feels like she belongs and she actually starts to feel "normal". She learns a lot about who she is, who she wants to be, and who she wants to surround herself with in that little room.
This book takes a few really big twists and turns. It really made me feel something. Sam isn't the only one going through some pretty tough stuff. The other kids from the Poet's Corner have not had it easy. It was so nice to read a teen book that deal with these real issues. You know, the tough things that aren't very pretty but happen all the time.
I thought that this book was beautifully written. I liked that the poems in the story really helped to tell the story. There aren't a lot of poems but enough that the reader can really see with the club is about. The pacing of the story was perfect and I must admit that I found it to be nearly impossible to set this book aside during the second half. The characters came alive on the page and I really felt like I knew Sam and A.J.
I would highly recommend this book to others. There are so many things that I think readers will be able to relate to in this story. I definitely plan to read other works by this author in the future.
I received an advance reader edition of this book from
Disney Book Group / Disney-Hyperion via NetGalley for the purpose of providing an honest review.