June 23, 2015

It's Tuesday! That means it is time to make a little bit of room on the bookshelves, load up your ereader, or make your way to your local library. In other words - It is time to get your hands on a new book!
Here are just a few books that have just been released that you may want to grab soon: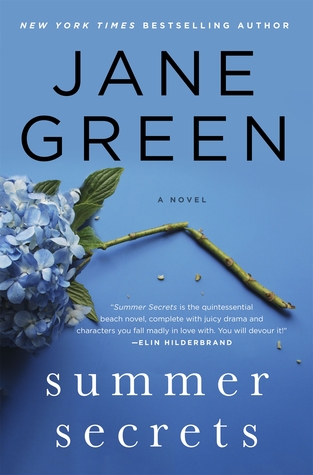 Summer Secrets by Jane Green
Jane Green delivers her second blockbuster novel of 2015, a story of one woman struggling to right the wrongs of her past, with even more complications in the present.

June, 1998: At twenty seven, Catherine Coombs, also known as Cat, is struggling. She lives in London, works as a journalist, and parties hard. Her lunchtimes consist of several glasses of wine at the bar downstairs in the office, her evenings much the same, swigging the free booze and eating the free food at a different launch or party every night. When she discovers the identity of the father she never knew she had, it sends her into a spiral. She makes mistakes that cost her the budding friendship of the only women who have ever welcomed her. And nothing is ever the same after that.

June, 2014: Cat has finally come to the end of herself. She no longer drinks. She wants to make amends to those she has hurt. Her quest takes her to Nantucket, to the gorgeous summer community where the women she once called family still live. Despite her sins, will they welcome her again? What Cat doesn't realize is that these women, her real father's daughters, have secrets of their own. As the past collides with the present, Cat must confront the darkest things in her own life and uncover the depths of someone's need for revenge.
---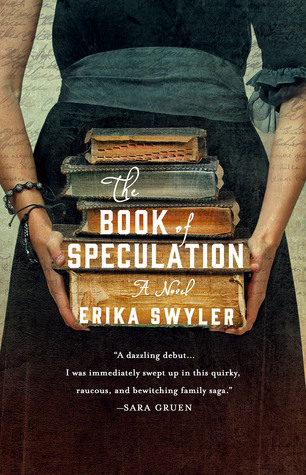 The Book of Speculation by Erika Swyler
A sweeping and captivating debut novel about a young librarian who is sent a mysterious old book, inscribed with his grandmother's name. What is the book's connection to his family?

Simon Watson, a young librarian, lives alone on the Long Island Sound in his family home, a house perched on the edge of a cliff that is slowly crumbling into the sea. His parents are long dead, his mother having drowned in the water his house overlooks.

One day, Simon receives a mysterious book from an antiquarian bookseller; it has been sent to him because it is inscribed with the name Verona Bonn, Simon's grandmother. Simon must unlock the mysteries of the book, and decode his family history, before fate deals its next deadly hand.

The Book of Speculation is Erika Swyler's gorgeous and moving debut, a wondrous novel about the power of books, family, and magic.
---
Ever After by Jude Deveraux
New York Times bestselling author Jude Deveraux's eagerly awaited third novel in her blockbuster Nantucket Brides trilogy continues the spellbinding saga of the Montgomery-Taggerts, set on an island steeped in beauty and unforgettable romance.

Life is anything but perfect for Hallie Hartley, a young physical therapist who has given up nearly everything—even her love life—for her beautiful blonde stepsister, Shelly. Though Shelly's acting career has never taken off, she has certainly perfected the crocodile tears to get what she wants—which all too often means Hallie's boyfriends. When Hallie arrives home early from work one fateful day, she makes two startling discoveries that will turn her life upside down: Not only has a mysterious relative left Hallie a house on Nantucket, but Shelly has been trying to steal it. Desperate to put her troubles behind her, Hallie impulsively flies to Nantucket.

New trouble, however, has already settled into Hallie's guest room in the form of her newest client. Hallie is told that wealthy, young James Taggert has injured his leg in a skiing accident. Assuming that the devastatingly handsome man has led a charmed life, Hallie is surprised by Jamie at every turn throughout his recovery. His attentions draw her out of her shell—but he has a dark secret, and is tormented by nightmares that only her presence can keep at bay. She suspects there's more to his injury than he's letting on.

On this gorgeous island rich in history, magic is everywhere, even in Hallie's own backyard. As Jamie's relatives arrive for a wedding gala, something wonderfully unusual is in the air. There's an aura of romance—enhanced by a pair of matchmaking ghosts and a colorful island legend. In their own little corner of the world, Jamie and Hallie unravel the timeless secrets of their own hearts, and a very special story of True Love destined to last forever after.
---
Trapped by Scandal by Jane Feather
New York Times bestselling author Jane Feather returns to the Regency with a passionate tale that sweeps the reader from the dangerous streets of Paris to the glittering ballrooms of London.

Lady Hero Fanshawe has chafed at society's dictates since the death of her fiancé taught her that joy can be fleeting. When her brother disappears in Paris at the height of the Terror, she has no hesitation in disguising herself as a boy and risking her life to find him—or in joining forces with a chance-met ally, the enigmatic William Ducasse, Viscount St. Aubrey. And no regrets in indulging in a passionate affair with the dangerously handsome stranger in the shadow of the guillotine…

Half French, half English, William is committed to his shadow life, flirting with death to rescue imperiled aristocrats, and marriage is an indulgence he cannot afford. Once Hero returns to London, he refuses to risk her good name by continuing their liaison. But he has reckoned without the determined Hero's disregard for propriety…or the dictates of his own treacherous heart.
---
Wicked Charms by Janet Evanovich & Phoef Sutton
Lizzy and Diesel return once again in an all-new adventure in the #1 New York Times bestselling series from Janet Evanovich and her co-author, Phoef Sutton!

Murdered and mummified more than ninety years ago, bootlegger Collier "Peg Leg" Dazzle once found and re-hid a famous pirate's treasure somewhere along the coast of New England. A vast collection of gold and silver coins and precious gems, the bounty also contains the Stone of Avarice — the very item reluctant treasure seeker, Lizzy Tucker, and her partner, Diesel, have been enlisted to find. While Lizzy would just like to live a quiet, semi-normal life, Diesel is all about the hunt. And this hunt is going to require a genuine treasure map and a ship worthy of sailing the seven seas . . . or at least getting them from Salem Harbor to Maine.

Greed is eternal and insatiable, and Lizzy and Diesel aren't the only ones searching for the lost pirate's chest. There are people who have dedicated their entire lives to finding it, and are willing to commit murder or make a deal with the devil, just to hold the fortune in their hands. One of those people may even be Wulf, Diesel's deceptively charming and enigmatic cousin. Wulf desires the Stone of Avarice. He also desires Lizzy. It's hard to say how far he's willing to go to gain either one.

It's a swashbuckling adventure full of raiders, monkeys, minions, and mayhem. Lizzy and Diesel are going to have to do everything they can to keep their heads above water and hope they are living a charmed life.
---