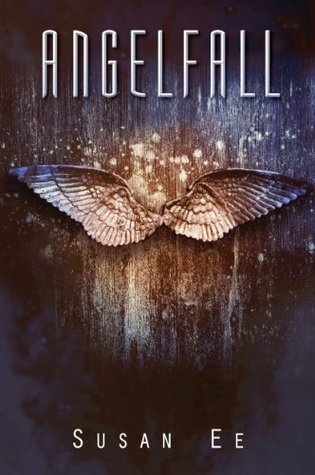 Angelfall by Susan Ee
Narrated by Caitlin Davis
Series: Penryn & the End of Days #1
Skyscape / Brilliance Audio
Publication Date: August 28, 2012
Date Read: April 16, 2015
Goodreads
|
Audible
|
Amazon
|
Barnes & Noble
3 Stars
I have a feeling that I went into this book with my expectations set way too high. I was ready to read a story that was supposed to knock my socks off but this book lacked any kind of "Wow" factor for me. I have had this book in my TBR pile since I picked it up as a freebie in January 2013 and I couldn't wait to read a story about angles. I remember even then how much everyone was raving about this book but I somehow kept skipping over it.
I decided it was time to finally read it when a group of my friends on Goodreads organized a buddy read. With all the 5 star reviews, I just knew that I would love it. I wanted to love it. I wish that I had loved it but I didn't love it. I didn't hate it but I didn't think that it was any better than just okay.
I switched back and forth between reading this book and listening to the audible version. I never fell in the love with the narrator and I did find that I liked the book a bit more when I was actually reading the story instead of listening to it. I think that Caitlin Davis did a good job with the narration and she sounds like I would expect Penryn to sound but for some reason this narration just didn't connect with me.
I thought that the plot was decent. There were enough twists and turns to keep things exciting and it was a unique storyline. There were some really awesome moments in this book and there were a few spots where I found myself rolling my eyes. There were a few times in the book that I wished that things had taken a different direction but it was overall a solid story. I did feel like the book dragged at times and it was always very easy for me to set this book aside to do something else.
I had expected to fall in love with Rafe. Everyone keeps saying how much they love Rafe. I wanted to join in on the love but it wasn't meant to be. I thought Rafe was okay but his character lacked that something extra I had expected. I didn't connect with Penryn in any way either. I didn't dislike her but I didn't find myself loving her either.
I still plan to read the second book in this series,
World After
. I liked it enough to want to see what the fuss is all about in the second book and heck, I already bought the silly book so I might as well read it. I am definitely in the minority with my rating of the book so I would tell anyone interested to give it a shot since most people seem to love this book.