May 5, 2015
It's Tuesday! That means it is time to make a little bit of room on the bookshelves, load up your ereader, or make your way to your local library. In other words - It is time to get your hands on a new book!
Here are just a few books that have just been released that you may want to grab soon:
Undertow by Michael Buckley
Sixteen-year-old Lyric Walker's life is forever changed when she witnesses the arrival of 30,000 Alpha, a five-nation race of ocean-dwelling warriors, on her beach in Coney Island. The world's initial wonder and awe over the Alpha quickly turns ugly and paranoid and violent, and Lyric's small town transforms into a military zone with humans on one side and Alpha on the other. When Lyric is recruited to help the crown prince, a boy named Fathom, assimilate, she begins to fall for him. But their love is a dangerous one, and there are forces on both sides working to keep them apart. Only, what if the Alpha are not actually the enemy? What if they are in fact humanity's only hope of survival? Because the real enemy is coming. And it's more terrifying than anything the world has ever seen.

Action, suspense, and romance whirlpool dangerously in this cinematic saga, a blend of District 9 and The Outsiders.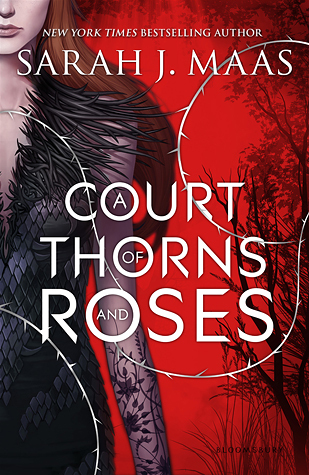 A Court of Thorns and Roses by Sarah J. Maas
A thrilling, seductive new series from New York Times bestselling author Sarah J. Maas, blending Beauty and the Beast with faerie lore.

When nineteen-year-old huntress Feyre kills a wolf in the woods, a beast-like creature arrives to demand retribution for it. Dragged to a treacherous magical land she only knows about from legends, Feyre discovers that her captor is not an animal, but Tamlin—one of the lethal, immortal faeries who once ruled their world.

As she dwells on his estate, her feelings for Tamlin transform from icy hostility into a fiery passion that burns through every lie and warning she's been told about the beautiful, dangerous world of the Fae. But an ancient, wicked shadow grows over the faerie lands, and Feyre must find a way to stop it . . . or doom Tamlin—and his world—forever.

Perfect for fans of Kristin Cashore and George R. R. Martin, this first book in a sexy and action-packed new series is impossible to put down!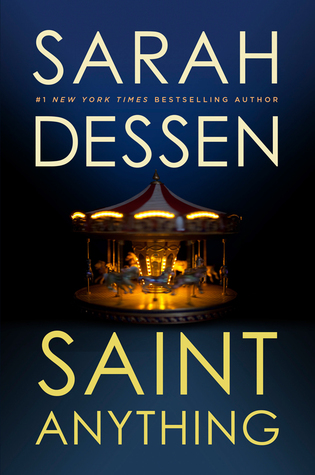 Saint Anything by Sarah Dessen
Peyton, Sydney's charismatic older brother, has always been the star of the family, receiving the lion's share of their parents' attention and—lately—concern. When Peyton's increasingly reckless behavior culminates in an accident, a drunk driving conviction, and a jail sentence, Sydney is cast adrift, searching for her place in the family and the world. When everyone else is so worried about Peyton, is she the only one concerned about the victim of the accident?

Enter the Chathams, a warm, chaotic family who run a pizza parlor, play bluegrass on weekends, and pitch in to care for their mother, who has multiple sclerosis. Here Sydney experiences unquestioning acceptance. And here she meets Mac, gentle, watchful, and protective, who makes Sydney feel seen, really seen, for the first time.

The uber-popular Sarah Dessen explores her signature themes of family, self-discovery, and change in her twelfth novel, sure to delight her legions of fans.
Day Shift by Charlaine Harris
In Midnight Crossroad, Charlaine Harris "capture[d] the same magic as the world of Bon Temps, Louisiana, and [took] it to another level" (Houston Press). Now the #1 New York Times bestselling author of the Sookie Stackhouse novels returns to the one-traffic-light town you see only when you're on the way to someplace else…

There is no such thing as bad publicity, except in Midnight, Texas, where the residents like to keep to themselves. Even in a town full of secretive people, Olivia Charity is an enigma. She lives with the vampire Lemuel, but no one knows what she does; they only know that she's beautiful and dangerous.

Psychic Manfred Bernardo finds out just how dangerous when he goes on a working weekend to Dallas and sees Olivia there with a couple who are both found dead the next day. To make matters worse, one of Manfred's regular—and very wealthy—clients dies during a reading.

Manfred returns from Dallas embroiled in scandal and hounded by the press. He turns to Olivia for help; somehow he knows that the mysterious Olivia can get things back to normal. As normal as things get in Midnight…
Crazy for the Cowboy by Vicki Lewis Thompson
The New York Times bestselling author of the Wild About You series delivers the first in a brand-new series that takes readers on the wild ride that comes with loving a cowboy.…

When Vince Durant left Bickford, Texas, he was a rowdy cowboy just looking for a good time. He also left unfinished business. He hadn't captured the Ghost, a wild stallion that roams the hills, and he never convinced Georgina Bickford to go out with him. Georgie might be a lost cause, but the Ghost has been calling his name ever since....

When Vince returns to Bickford, he finds his old stomping ground a shell of what it used to be, and Georgie still wants nothing to do with him. To her, he'll always be the womanizing cowboy she knew seven years ago.

And when Vince comes up with a plan that might restore Bickford to its former glory, Georgie wonders if the rough-and-tough cowboy has truly changed. As they get closer, Georgie will have to decide whether to resist Vince's charm or to attempt to tame the wild stallion who's stolen her heart.