May 26, 2015

It's Tuesday! That means it is time to make a little bit of room on the bookshelves, load up your ereader, or make your way to your local library. In other words - It is time to get your hands on a new book!
Here are just a few books that have just been released that you may want to grab soon:
Delivered Fast by Annabeth Albert
Portland, Oregon, aka Hotlandia, where the coffee shops, restaurants, and bakeries are ready to serve everything piping hot, fresh, and ready to go—like the hard-working, hard-bodied men behind the counters—with no reservations…

Sure, Chris O'Neal has problems. His restaurant is still co-owned by his ex. His flannel-and-tattoos style is making him accidentally trendy. He can't remember the last time he went out and had fun. But he's not lonely, he's driven. And the hot bakery delivery boy is not his problem, no matter how sweet his buns.

Chris is old enough to know Lance Degrassi's sculpted good looks and clever double entendres spell nothing but trouble. Lance is still in college—he should be hitting the clubs and the books, chasing guys his own age, not pursuing some gruff motorcycle-riding workaholic. Especially when he'll be leaving for grad school in a few months. But Lance keeps hanging around, lending a hand, charming Chris to distraction. Maybe some steaming hot no-strings indulgence won't hurt.

Then again, maybe it will…
---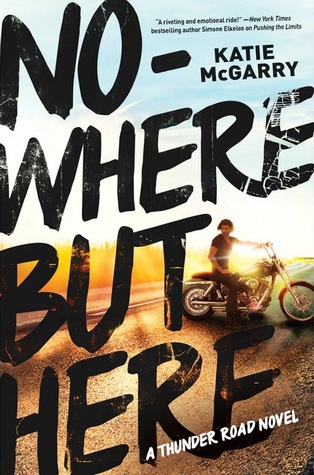 Nowhere But Here by Katie McGarry
An unforgettable new series from acclaimed author Katie McGarry about taking risks, opening your heart and ending up in a place you never imagined possible.

Seventeen-year-old Emily likes her life the way it is: doting parents, good friends, good school in a safe neighborhood. Sure, she's curious about her biological father—the one who chose life in a motorcycle club, the Reign of Terror, over being a parent—but that doesn't mean she wants to be a part of his world. But when a reluctant visit turns to an extended summer vacation among relatives she never knew she had, one thing becomes clear: nothing is what it seems. Not the club, not her secret-keeping father and not Oz, a guy with suck-me-in blue eyes who can help her understand them both.

Oz wants one thing: to join the Reign of Terror. They're the good guys. They protect people. They're…family. And while Emily—the gorgeous and sheltered daughter of the club's most respected member—is in town, he's gonna prove it to her. So when her father asks him to keep her safe from a rival club with a score to settle, Oz knows it's his shot at his dream. What he doesn't count on is that Emily just might turn that dream upside down.

No one wants them to be together. But sometimes the right person is the one you least expect, and the road you fear the most is the one that leads you home.
---
Under the Lights by Shannon Stacey
From the New York Times bestselling author of the Kowalski Family novels, a sweet, sexy new series about taking hits, making second chances, and finding love…

They were the golden boys of fall: Stewart Mills High School's legendary championship winning football team. Fourteen years later, they're back to relive their glory, save the team—and find themselves again…

Chase Sanders's life has taken a lot of crazy turns lately. But returning to his hometown to help his old coach keep his high school football team afloat might be the craziest thing to happen to him yet. That is, until he starts falling for the last person he should—Coach's gorgeous daughter…

Kelly McDonnell learned the hard way that cocky, charming men are nothing but trouble, so she knows Chase is bad news. Still, she can't resist his smile—or the rest of him. But when his loyalty to her father conflicts with their growing attraction, any hope for a relationship might be blocked before it can even begin…
---
Rules of the Game by Lori Wilde
A jilted bride meets a superstar baseball player in this newest Stardust, Texas novel from New York Times bestselling author Lori Wilde...

Just uttering the word "wedding" makes Jodi Carlyle break out into a cold sweat. So a year after she'd been dumped at the altar, and two days after turning the big 3-0, she decides to break some rules—by dressing to the nines, hiring a limo,and crashing a swanky wedding...

...Where she catches the eye of the Dallas Gunslingers' new star hitter Jake Coronnado. He's hot. He's sexy. He sticks by her side all evening. He's the perfect fling. After a wild weekend, where they do everything and then some, Jodi thinks she'll never have to see him again...hey, she's even told him her name is Gwendolyn! But she thinks wrong.

Because guess who's the best man at Jodi's sister's wedding? And guess who's still as seductive as ever? And guess who's determined to turn their one-night fling into happily-ever-after?
---
Brokedown Cowboy by Maisey Yates
There are lines best friends shouldn't cross, but in Copper Ridge, Oregon, the temptation might be too much…

If practice makes perfect, Connor Garrett should be world champion of being alone. Since losing his wife he's concentrated exclusively on his family's ranch. Until his dear friend Felicity Foster needs a place to stay and Connor invites her to move in temporarily. That's what friends do—and Liss is his rock. What friends don't do? Suddenly start fantasizing about each other in their underwear. Or out of it…

Since high school, Liss has kept her raging crush in check. Another few weeks should be a breeze. But helping Connor rebuild his life only reinforces how much she longs to be a part of it. One explosive encounter, and she'll discover that getting what you always wanted can feel better than you ever dreamed…
---