May 19, 2015

It's Tuesday! That means it is time to make a little bit of room on the bookshelves, load up your ereader, or make your way to your local library. In other words - It is time to get your hands on a new book!
Here are just a few books that have just been released that you may want to grab soon: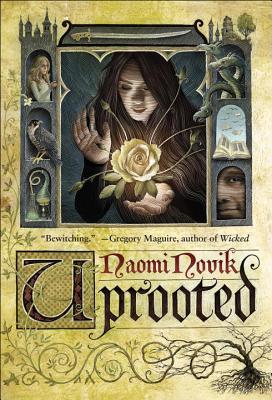 Uprooted by Naomi Novik
Naomi Novik, author of the bestselling and critically acclaimed Temeraire novels, introduces a bold new world rooted in folk stories and legends, as elemental as a Grimm fairy tale.

"Our Dragon doesn't eat the girls he takes, no matter what stories they tell outside our valley. We hear them sometimes, from travelers passing through. They talk as though we were doing human sacrifice, and he were a real dragon. Of course that's not true: he may be a wizard and immortal, but he's still a man, and our fathers would band together and kill him if he wanted to eat one of us every ten years. He protects us against the Wood, and we're grateful, but not that grateful."

Agnieszka loves her valley home, her quiet village, the forests and the bright shining river. But the corrupted Wood stands on the border, full of malevolent power, and its shadow lies over her life.

Her people rely on the cold, driven wizard known only as the Dragon to keep its powers at bay. But he demands a terrible price for his help: one young woman handed over to serve him for ten years, a fate almost as terrible as falling to the Wood.

The next choosing is fast approaching, and Agnieszka is afraid. She knows—everyone knows—that the Dragon will take Kasia: beautiful, graceful, brave Kasia, all the things Agnieszka isn't, and her dearest friend in the world. And there is no way to save her.

But Agnieszka fears the wrong things. For when the Dragon comes, it is not Kasia he will choose.
---
The Ice Twins by S.K. Tremayne
In the tradition of The Girl on the Train comes the UK bestseller THE ICE TWINS, a terrifying psychological thriller with a twisting plot worthy of Gillian Flynn.

One of Sarah's daughters died. But can she be sure which one?

A year after one of their identical twin daughters, Lydia, dies in an accident, Angus and Sarah Moorcroft move to the tiny Scottish island Angus inherited from his grandmother, hoping to put together the pieces of their shattered lives.

But when their surviving daughter, Kirstie, claims they have mistaken her identity--that she, in fact, is Lydia--their world comes crashing down once again.

As winter encroaches, Angus is forced to travel away from the island for work, Sarah is feeling isolated, and Kirstie (or is it Lydia?) is growing more disturbed. When a violent storm leaves Sarah and her daughter stranded, they are forced to confront what really happened on that fateful day.
---
The Hanged Man by P.N. Elrod
On a freezing Christmas Eve in 1879, a forensic psychic reader is summoned from her Baker Street lodgings to the scene of a questionable death. Alexandrina Victoria Pendlebury (named after her godmother, the current Queen of England) is adamant that the death in question is a magically compromised murder and not a suicide, as the police had assumed, after the shocking revelation contained by the body in question, Alex must put her personal loss aside to uncover the deeper issues at stake, before more bodies turn up.

Turning to some choice allies—the handsome, prescient Lieutenant Brooks, the brilliant, enigmatic Lord Desmond, and her rapscallion cousin James—Alex will have to marshal all of her magical and mental acumen to save Queen and Country from a shadowy threat. Our singular heroine is caught up in this rousing gaslamp adventure of cloaked assassins, meddlesome family, and dark magic.

"Murder, mayhem and tea—a well-bred Victorian urban fantasy thriller. Prepare, o reader, to be enthralled."—Patricia Briggs, #1 New York Times Best Selling Author of the Mercy Thompson series on P.N. Elrod's The Hanged Man
---
Game Changer by Melissa Cutler
The author of Undefeated and Risky Business has another sexy hero for you to meet…

Welcome to Destiny Falls, New York, home of Bomb Squad—an ice hockey team full of rugged military heroes. A once-in-a-lifetime opportunity has the team captain packing his bags for greener pastures, but saying good-bye to the woman who'd captured his heart is easier said than done…

After being wounded in combat, Brandon Theroux lives every day like it's his last. He never could have imagined that the sleek mechanics of his prosthetic leg would open so many doors, including minor celebrity status as a fitness model and a well-earned reputation as a rakish playboy. The only door it hasn't opened is the one to Harper Johnson's bedroom.

Harper has too much self-respect to join the ranks of Brandon's "carpe diem" conquests, but when she needs someone to keep the peace in the tavern she owns, Brandon offers his help—as long as she agrees to a very tempting trade. It isn't long before the two realize that a deal struck between friends who can't keep their hands off each other has the potential to be a whole lot hotter than either of them is prepared to handle…
---
Three Day Summer by Sarvenaz Tash
Michael is unsure about most things. Go to college? Enlist in the military? Break up with his girlfriend? All big question marks. He is living for the moment and all he wants is a few days at the biggest concert of the summer.

Cora lives in the town hosting the music festival. She's volunteering in the medical tent. She's like that, always the good girl. But there is something in the air at this concert and suddenly Cora finds herself wanting to push her own boundaries.

When Michael and Cora meet, sparks fly, hearts race, and all the things songs are written about come true. And all the while, three days of the most epic summer await them...
---