April 28, 2015
It's Tuesday! That means it is time to make a little bit of room on the bookshelves, load up your ereader, or make your way to your local library. In other words - It is time to get your hands on a new book!
Here are just a few books that have just been released that you may want to grab soon:
Cold Burn of Magic by Jennifer Estep
There Be Monsters Here. . .

It's not as great as you'd think, living in a tourist town that's known as "the most magical place in America." Same boring high school, just twice as many monsters under the bridges and rival Families killing each other for power.

I try to keep out of it. I've got my mom's bloodiron sword and my slightly illegal home in the basement of the municipal library. And a couple of Talents I try to keep quiet, including very light fingers and a way with a lock pick.

But then some nasty characters bring their Family feud into my friend's pawn shop, and I have to make a call--get involved, or watch a cute guy die because I didn't. I guess I made the wrong choice, because now I'm stuck putting everything on the line for Devon Sinclair. My mom was murdered because of the Families, and it looks like I'm going to end up just like her. . .
Emergence: Dave vs. the Monsters by John Birmingham
For fans of Jim Butcher and Kevin Hearne comes an action-packed new urban fantasy series featuring a tough, bleakly funny, down-on-his luck oil rig worker with an unlikely destiny as a monster-slayer and savior of the planet.
"Monsters," said Vince Martinelli. "There are monsters on the rig, Dave."
Dave Hooper has a hangover from hell, a horrible ex-wife, and the fangs of the IRS deep in his side. The last thing he needs is an explosion at work. A real explosion. On his off-shore oil rig.
But this is no accident, and despite the news reports, Dave knows that terrorists aren't to blame. He knows because he killed one of the things responsible.
When he wakes up in a hospital bed guarded by Navy SEALs, he realizes this is more than just a bad acid trip. Yeah, Dave's had a few. This trip is way weirder.
Killing a seven-foot-tall, tattooed demon has transformed the overweight, balding safety manager into something else entirely. A foul-mouthed, beer-loving monster slayer, and humanity's least worthy Champion.
Look for my review to be posted soon!
---
A Good Rogue is Hard to Find by Kelly Bowen
HE THOUGHT HE'D SEEN IT ALL . . .

The rogue's life has been good to William Somerhall: He has his fortune, his racehorses, and his freedom. Then he moves in with his mother. It seems the eccentric Dowager Duchess of Worth has been barely skirting social disaster-assisted by one Miss Jenna Hughes, who is far too bright and beautiful to be wasting her youth as a paid companion. Now home to keep his mother from ruin, William intends to learn what's afoot by keeping his friends close-and the tempting Miss Hughes closer still.

. . . UNTIL HE MEETS HER

He's tall, dark, and damnably intelligent-unfortunately for Jenna. She and the duchess are in the "redistribution business," taking from the rich and giving to the poor, and it's going great - until he shows up. But even as William plots to make an honest woman out of her, Jenna will use all her wiles to reveal just how bad a rogue he can be . . .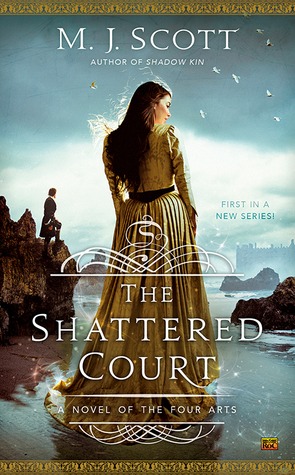 The Shattered Court by M.J. Scott

First in a new fantasy series from the author of the Novels of the Half-Light City.

Entangled in a court ruled by tradition and intrigue, a young witch must come to terms with newfound power and desire—and a choice between loyalty and survival.…

The royal witches of Anglion have bowed to tradition for centuries. If a woman of royal blood manifests powers, she is immediately bound by rites of marriage. She will serve her lord by practicing the tamer magics of the earth—ensuring good harvests and predicting the weather. Any magic more dangerous is forbidden.

Lady Sophia Kendall, thirty-second in line to the throne, is only days away from finding out if she will be blessed—or perhaps cursed—with magic. When a vicious attack by Anglion's ancient enemies leaves the kingdom in chaos, Sophia is forced to flee the court. Her protector by happenstance is Lieutenant Cameron Mackenzie, a member of the royal guard, raised all his life to be fiercely loyal to the Crown.

Then Sophia's powers manifest stronger than she ever imagined they would, and Cameron and she are inextricably linked in the process. As a witch unbound by marriage rites, Sophia is not only a threat to the established order of her country, but is also a weapon for those who seek to destroy it. Faced with old secrets and new truths, she must decide if she will fight for her country or succumb to the delicious temptation of power.…
Look for my review to be posted soon!
---
Scoundrel by Moonlight by Anna Campbell
Anything can happen in the moonlight . . . Justice. That's all Nell Trim wants-for her sister and for the countless other young women the Marquess of Leath has ruined with his wildly seductive ways. Now she has a bold plan to take him down . . . as long as she can resist the scoundrel's temptations herself.

From the moment Nell meets James Fairbrother, the air positively sizzles. Yet for all his size and power, there's something amazingly tender in his touch. Could he really be such a depraved rogue? The only way to find out is to beat the devil at his own game . . . one tempting kiss at a time.
Look for an excerpt & giveaway to be posted on Friday May 1, 2015!