March 24, 2015
It's Tuesday! That means it is time to make a little bit of room on the bookshelves, load up your ereader, or make your way to your local library. In other words - It is time to get your hands on a new book!
Here are just a few books that have just been released that you may want to grab soon:
The Stranger by Harlan Coben
The #1 New York Times bestselling master of suspense delivers a shocking thriller that proves that a well-placed lie can help build a comfortable life—and a secret has the same explosive power to destroy it.

Harlan Coben's seven consecutive #1 New York Times bestsellers feature unrivaled depths of emotion combined with cutting-edge suspense plots that keep millions of readers turning pages deep into the night. In The Stranger, married parents Adam and Hannah confront the shocking secret on which their marriage is built—leaving Adam wondering whether he ever truly knew Hannah at all.
---
The Dangers of Dating A Rebound Vampire by Molly Harper

In the next book in Molly Harper's beloved Half Moon Hollow paranormal romance series, Gigi starts her first job (at Vampire Headquarters), gets over her first love, and may even fall for her first vampire!

Gigi is no longer an innocent teen. All grown up and looking for love, her family and friends worry she'll go for the sexy, alluring vampire instead of a nice, safe human. But sexy and alluring, with a penchant for biting, could be just what Gigi wants...
---
Yours to Hold by Darcy Burke
Years ago, golden-boy Kyle Archer left Ribbon Ridge without a word. Now, with heartbreak on the verge of tearing his family apart, the black sheep is back and he's determined to earn their trust by uncovering the truth behind Alex's death. But the moment he confronts Maggie Trent—the therapist his parents blame for the tragedy—Kyle is stunned by his powerful attraction to the beautiful doctor… and drawn to her like no woman he's ever met before.

When gorgeous, charismatic Kyle approaches Maggie about his brother's death, she agrees to help him search for answers. And as they piece together Alex's last days, their undeniable chemistry turns too hot to ignore. After their relationship becomes more serious than either anticipated, Kyle may be forced to choose between the woman he's desperate to hold on to and the family he almost let slip away.
---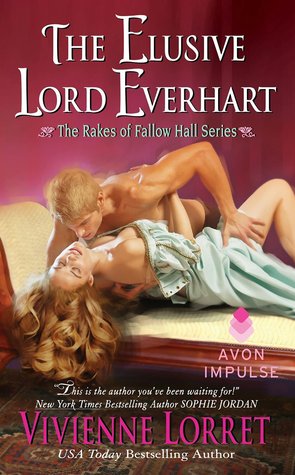 The Elusive Lord Everhart by Vivienne Lorret
Vivienne Lorret, the USA Today bestselling author of Winning Miss Wakefield, returns with a new series featuring the three roguish bachelors of Fallow Hall.

Gabriel Ludlow, Viscount Everhart, will never marry, and thus is sure to win the bachelors' wager amongst his friends. Assuming, of course, that his deepest secret—a certain letter containing a marriage proposal made in a moment of passion—doesn't surface. After all, without Calliope Croft to tempt him, there's no danger of losing. Or of falling in love.

Calliope wants revenge. Five years ago, an anonymous love letter stole her heart and ultimately broke it. Now Casanova has struck again, and Calliope vows to unmask the scoundrel, stopping him from breaking any more hearts. Yet, time and again, Gabriel distracts her from her task, until she can no longer deny that something about him calls to her…

Gabriel was a fool to ignore the depth of his feelings for Calliope, but the threat that kept him from her five years ago remains. Now he must choose between two paths: break her heart all over again or finally succumb to loving her… at the risk of losing everything.
---
My Thoughts
I have not had a chance to read any of the books on this list yet. I cannot wait to get my hands on a copy of The Stranger by Harlan Coben. I just love everything he writes and look forward to every new book from him. If you haven't had a chance to read Harlan Coben's work yet, please do yourself a favor and check one of his books out.
I haven't read any books by Molly Harper but I did listen to a short story that I had from audible not that long ago and I loved it. I definitely plan to read more of Molly Harper's work very soon. This new book is the third in the series so it may take me some time to get to it.
I read and enjoyed the first book in Darcy Burke's new Ribbon Ridge series. I will probably pick this new one up at some point. The new book by Vivienne Lorret was $0.99 on Amazon.com the last time I checked so fans of historical romance may want to take a look at this new release.
What newly released books are you excited about this week?